Selling a property is never a cakewalk. A real estate seller is responsible for physically visiting the site as and when demanded by the clients, negotiating prices, briefing about the pros and cons of the property, and so much more.
Apart from the ones mentioned above, closing a single real estate deal involves numerous other operations like client meetings, phone calls, follow-ups, paper-works, managing telephonic/online queries, rigorous research, generating leads, creative designs etc., topped by the constant pressure of marketing.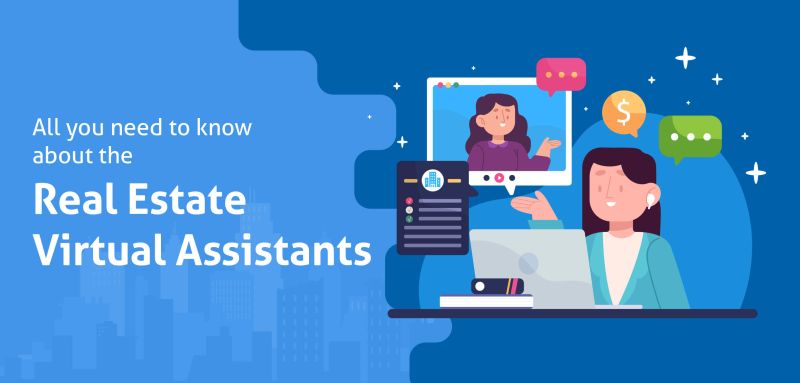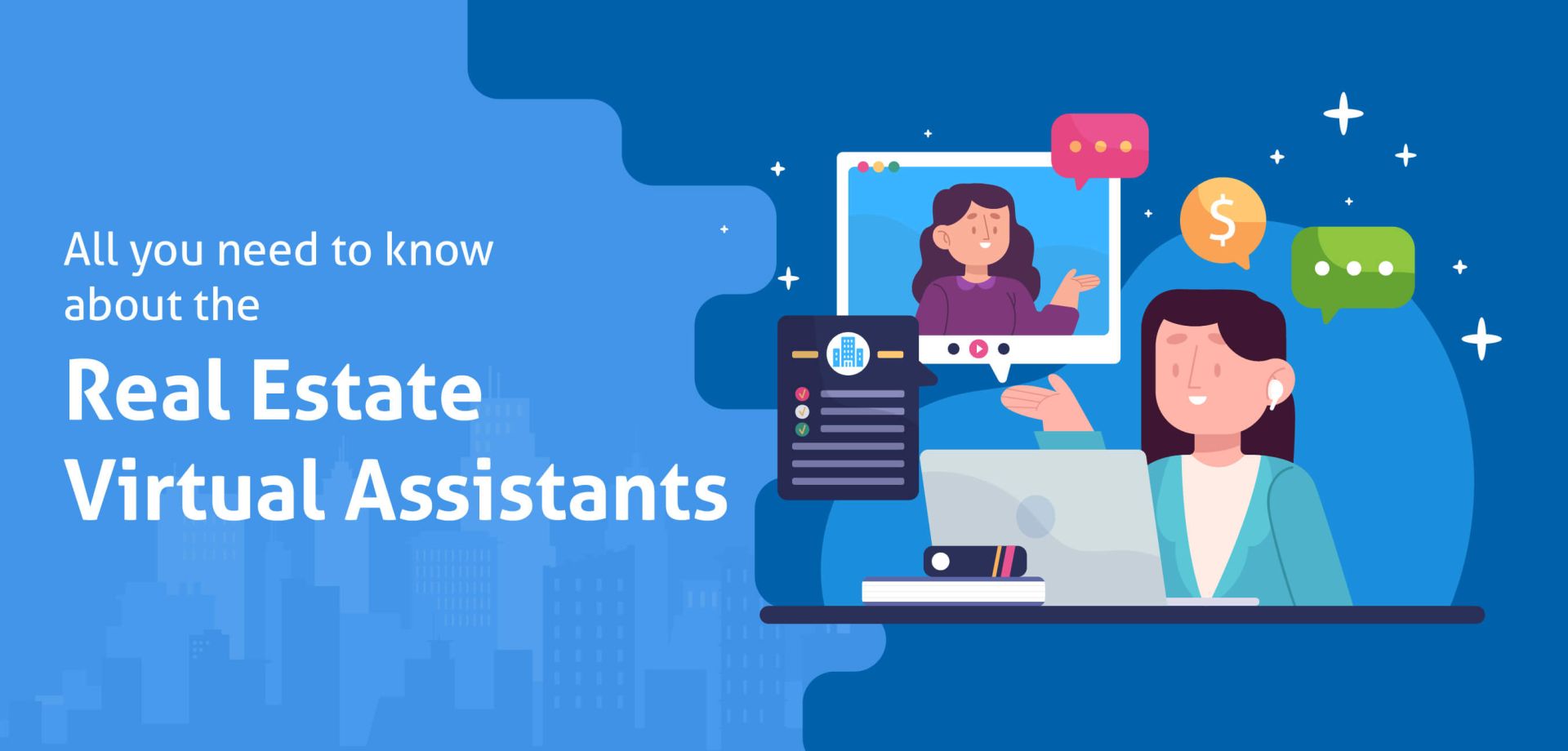 Now imagine the workload on a real estate seller when managing multiple clients on a daily basis!
What is a real estate virtual assistant?
A real estate virtual assistant is a skilled professional who offers services to real estate companies and realtors to streamline the business operations. They work from remote locations with digital equipment and render dedicated services to real estate sellers or companies to save their valuable time, helping them accomplish their business goals.
What is the role of a virtual assistant in real estate?
A real estate virtual assistant is a dedicated professional who helps the realtor in their day-to-day business operations, like making cold calls, generating leads, managing social media, preparing schedules, documentation, etc., so the sellers can invest more time in otherwise important operations like visiting the properties and making more sales.
Now let us move into the next sections, where we have tried to cover some of the queries people generally have regarding real estate virtual assistance.
List of real estate virtual assistant tasks
Even if the real estate virtual assistants are not physically working in your location for you, they still perform the majority of the job of the real estate sellers only to reduce the workload and increase the profits. So here is the list of some real estate VA tasks to ensure smooth and timely operations.
Appointment Setting

They make schedules of appointments, client meetings, and calls and plan the calendar in advance.

Database Management

Virtual assistants manage and organize the databases of clients, properties, sales, profits, and queries systematically.

Cold Calling

Highly skilled real estate cold calling virtual assistants can conduct convincing cold calls (calls made to promote sales to people who has had no previous interaction with a company or its services) and skyrocket sales.

Lead Generation

Professional real estate virtual assistants complement real estate agents by generating leads on the web and keeping up with the information base of the leads produced.

Digital Marketing

Real estate VA services also include creating, promoting, and managing sales over the internet, including social media management. This includes promoting property pictures and videos, posting blog content, creating attractive advertisements, and newsletters, keeping the website updated, etc.

Follow-ups Tasks

Conduct regular follow-ups, send updates to clients regarding loans and proceedings, handle client queries, etc.

Proofreading and Copy-editing

Researching, writing, and proofreading the contracts and agreement papers and providing the customers' information regarding the necessary documents during a real estate transaction.
Why hire real estate virtual assistant from India?
There are several reasons why India is a top choice for outsourcing among the other overseas virtual assistants in the real estate business.
The vast population offers a bundle of young and new talents.
Being a developing country, VAs from India are found to have a viable level of education, are well adapted to newer tools and technologies, and keep upgrading their skills from time to time.
India is a country with a growing industrial base. Call centers are also on a similar rise. So it is easy to get experienced VAs in large numbers.
Indians have an inclination towards learning English and other languages, and most virtual assistant employees are fluent in many languages.
Most importantly, Indian VAs are well-adapted to the time zone difference and can sincerely complete their tasks in their designated shifts.
What is the cost of hiring real estate virtual assistant from India?
Although the charges of the virtual assistants for real estate cannot be calculated that way, few things determine the salary or the amount an Indian VA charges per hour.
Education level
Years of experience
Efficiency
Sincerity
Problem-solving ability
Number of leads they can generate
Strategic management ability
Client feedback
According to Payscale data, the average cost of a virtual assistant in the USA is $12 to $26 per hour.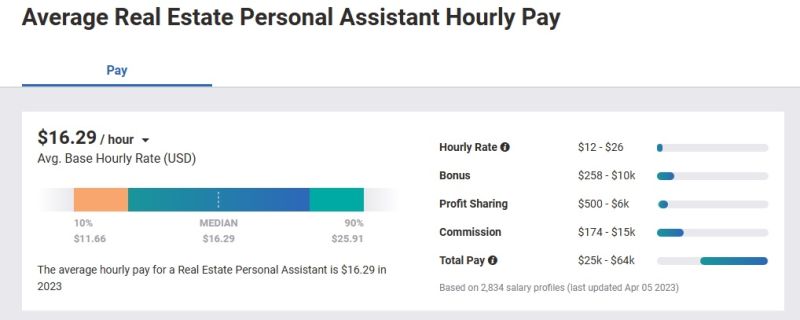 However, on average, the pricing for virtual assistant services in India is somewhere between $5 to $15 per hour, based on the factors mentioned above. This rate is quite nominal compared to the VAs of other countries.
So hiring a commercial real estate virtual assistant from India is like getting the job done accurately by investing only a little.
Useful Article: How to find and hire virtual assistant?
Checklist while hiring a real estate VA
Keep the following things in mind before hiring a virtual assistant for real estate.
Knowledge regarding the sector
Experience gained
Fluency in reading and writing in the required language
Problem-solving ability
Confidence and approach
Communication skills
Patience
Benefits of outsourcing your requirements to real estate virtual assistant
Handling clients and their endless queries is a labor-intensive task. It also requires infinite time and patience to attend to every big and small question of the clients. Above that, a real estate dealer/agent is responsible for physically visiting the site to crack a deal.
Highly professional and trained virtual assistants with sound domain knowledge have the ability to produce quality work and help you make more sales even if working remotely.
Hiring real estate virtual assistants from reputed companies will not just shoot your real estate business to the skies but will also make your brand a prominent name in the market.
Summing up
Real estate is a booming sector with competition at every bent. To cope up with it, the virtual assistants work as a boon to the real estate dealers and agents.
Virtual assistants drive sales in the real estate sector by saving cost and time and streamlining the work. Studies say that virtual assistants reduce the operational costs of the real estate sector by folds.
Among the cheap real estate virtual assistant services offered from all across the globe, the work integrity of the Indian VAs is standalone. Their inquisitiveness to learn new things and dedication make them a cream choice.
Hope this blog has answered some of the questions you were looking for. Stay tuned for more such pieces!