According to the customers, live chat for e-commerce is one of the most preferred support channels. If done correctly, live chat support can reap multiple benefits, including round-the-clock support with little or no support from the physical staff. Live chat support is a key differentiator in improving customer satisfaction and increasing conversion.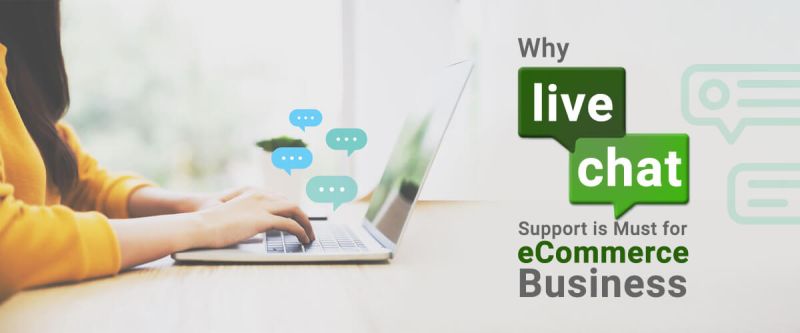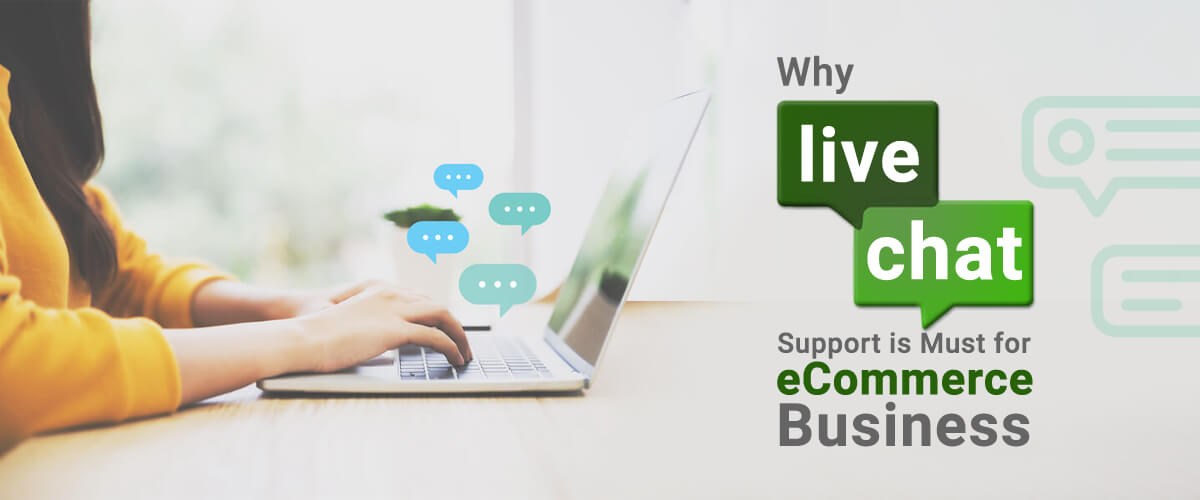 "A satisfied customer is the best business strategy of all"- Michael LeBoeuf.
Ecommerce is opening new gates of opportunity for businesses from all walks of industry, be it apparel, footwear, medical and healthcare sector, or FMCGs. They all are now just a click away from the customers.
But no matter how good your product is or how much goodwill you have earned as an offline business when it comes to your online presence, all that matters is how satisfied your customer is in the end.
This is why many businesses perform A/B testing to track what works best for their business and how they can benefit their customers.
In this rat race of making the visitors stay and place orders with you, many tactics, tools, and techniques (TTTs) are used. One of the most emerging techniques to maintain customer stickiness is by providing live chat support to customers.
No matter how optimized your website is or how much reputation you have earned as a brand, getting traffic is a big deal. Making the visitors stay and place an order is what defines your success.
In this time of cutthroat competition, people have less patience to wait or scan your website carefully for any information they need. A new customer never hesitates to click the back button on the top to exit if he finds things confusing or uncomfortable.
This is why live chat support is needed to avoid such mishaps. This facility is a virtual salesperson always available for customer service.
This facility helps the customer in real-time but is also open round the clock for different time zones keeping your business live for almost all geographical locations.
There are several benefits of having a live chat support system for ecommerce businesses. Still, before discussing that, it is very important to understand the process and how it works.
What is Live Chat Support?
Live Chat Support or Online Customer Support is a system that opens a new chat app or chatbot that helps the customers in real time in solving their issues, knowing their preferences, and suggesting products accordingly or to help through the buyer's journey.
It is a widget on the website that pops up once the visitor opens any ecommerce website. This widget comes with some predefined or generic questions, followed by real-time support by the customer support team.
This technique eases the visitor's experience with the website and helps them place an order, making them most satisfied with their purchase from your business.
This technique not only helps the visitors make buying decisions but also gives a window of opportunity to the businesses to cross sell and upsell their products, giving suggestions and options to choose from the catalog.
Why is Live Chat Important for Ecommerce Businesses?
Live chat support comes with manifold benefits and has become the most preferred support channel. Below are some of the most preferred reasons why live chat support is blossoming in the ecommerce industry.
Real-Time Support Improves Conversion

One of the many benefits of using live chat support for your ecommerce business is that it helps improve conversion by providing real-time support to the customers who need help.

An ecommerce business is not as simple as having a brick-and-mortar store where you have a physical team to help the customers seeking support.

On the online platform, only real-time help in terms of live chat, email support, or call can be the bridge to fill the gap between the business and the customer, out of which live chat is considered the most satisfactory for customers.

A Way to Humanize your Online Store

When you have an ecommerce store open for customers, it is very important to present it in the most humanized form, and live chat support can help you with that.

Just imagine a situation where there is a website with no chatbot or any other customer support. On the other hand, another website provides chat, email, and even the support of calling back to their customers.

In such a scenario, the customer with so many questions or the one stuck somewhere in the buyer's journey will seek help, and the website that offers real-time support will be in a win-win situation here because a customer feels there is someone to help!

Convenient | Fast | Personalized

Compared to the other modes of customer support, live chat is faster, more convenient, and more personalized, leaving customers with utmost satisfaction.

Be it call center support or email support; both are useful but not as real-time as live chat support; this is why customers seeking help want to get into the chat conversation in no time.

No customer wants to hop on the footer of any website to contact the business until they find no other way to connect; this is time consuming and, most of the time, leaves a customer irked and uninterested in your product.

This is why you must make the way as simple as possible to help your customers reach out to you at ease.

Makes Your Business Live Round the Clock

One of the most fundamental reasons why live chat support is important for businesses is that it keeps them live even when you are away from the daily operations. The benefit is that your customers can get support at any geographical location in various time zones.

With online chat help, you can give a new flight to your business and earn the most trusted customers for your brand.
Other Benefits
Better, quick, and convenient than a traditional voice call
Greets the customer whenever they visit the website, making it more personal
Private in terms of interaction, better than any social one
Helps the customers in choosing the best from what they are looking for
Helps in resolving the issues your customer is facing before they become bigger
Read More: Top 20 tips to boost your customer service experience.
Some Common Myths about Live Chat Support
You will have to be available 24/7/365

Well, this is not true! With the support of a live chat system, the ecommerce business is available round the clock but not the team, as it has an automated set of questionnaires that will help and guide your customers.

Several self-service options are also available to help your customers take another step for purchasing, return/refund, or any other product-related help.

In short, your business will be live and supporting your customers even when your staff are away.

Expensive & Time Consuming

Many businesses, especially startups with limited investment and multiple setups, think having a chatbot system is expensive and will consume a lot of business hours.

It is not the case!

If you have real-time chat support, it will reap many benefits for your business in the long run, and on the other hand, it will earn loyal customers for your brand plus it is not costly.

Return on Investment is Untraceable

We understand that tracking the ROI of chat support is a tab bit tough but not impossible. However, there are multiple ways to watch your spending in live chat support.

As per many studies, it is claimed that with live chat support, the conversion increases, and it is said that a 10% increase in the average order value is enough to bear the expenses of most live chat support systems.
Must-Have Features in a Live Chat Tool in 2023
Proactively initiate a conversation with the customer during the buyer's journey
Must trigger cross-selling and upselling
Must include pre-chat forms (for collecting stats & lead generation and post-chat surveys (for NPS & customer feedback)
Must have an option to showcase the catalog, offers, and more to create the interest
Should have detailed analytics and customers' information
Should reduce cart abandonment by proactively connecting with the customers and solving the issues in a short span
Must have a proper system to track the statistics to extract the ROI
Top 10 Ecommerce Live Chat Tools (2023)
Help Scout- All in one live chat and customer support tool
Freshdesk- Best live chat tool for call center support
HelpCrunch- Best for design customization
Olark- Best for standalone live chat
Tidio- Best live chat tool for small businesses and startups with a limited budget
ProProfs- Best live chat tool for lead generation
LiveAgent- Best live chat tool for omnichannel communication
Chaport- Best live chat tool for team collaboration
Intercom- Best tool for self-service support
LiveChat- Best tool for making and tracking sales
To propel your Ecommerce business and build a brand out of your business, you must choose the best live chat tool as per your business requirements. It is important to move with the new technological advancements in the industry to compete in the market.
Always remember- A good brand is always a sound business first!
This sums up the topic of live chat support for ecommerce in 2023, and we hope our knowledge sharing will help you build a good customer support team and earn you the most trusted customers.
For more such write-ups, you can follow us on social media or can also get yourself notified by signing up for our newsletter