The use of videos in the real estate industry has been increasing over the years. These videos create a realistic impact on the viewers about a project. They help the real estate developers market their products to potential buyers, displaying the entire layout of their property. However, it is necessary to edit these videos, removing the flaws. You can reach out to professional companies providing real estate video editing services for assistance. At PGBS, we excel in editing and refining your videos to absolute perfection.
Well-edited videos, tailored according to the specific requirements, help the clients to take well-informed decisions. This strengthens the sales mechanism of the developers. Competition in the real estate sector is growing. As a developer, you should incorporate relevant videos to beat the competition. Get across to the experts with an impressive track record in video editing for the real estate industry. Outsource video editing services to PGBS and be confident of apex quality outputs.
Who needs real estate video editing services?
Real estate video editing is necessary for every developer. Clients look out for highly-detailed videos for interiors and exteriors of the properties. People approaching us belong to varied categories and our main service inclusions are:
Real estate owners
Realtors
Real estate agents and companies
Real estate brokers
High-quality real estate video editing services at PGBS
At PGBS, you will come across trained experts, ready to edit a wide range of videos for the real estate industry. We are known for the quality of our services, and the experts working with us ensure an impeccable feel and look in these videos. Our team of editors can deliver the projects in quick turnaround time. They can edit videos with length up to 3 hours within 24 hours. However, the schedule for each project can be different, according to the needs of our clients.
Our range of service includes
Basic editing
Clients often have the video files in different formats. Our experts come with experience in working with all types of video formats, including WMV, MOV, AVI, MP4 and so on. We can provide exceptional services in video editing to our clients. The editors with us are equipped with the necessary technology to blend various clips of real estate videos, eliminate unnecessary clips, support shot sequencing and stabilize the videos that are shaky. We take care of each of these videos and ensure that they look fresh and professional.
Enhancements
You can reach us to enhance the real estate videos by integrating various elements in them, including music, animations, subtitles, voice-overs and creative titling. The charges for these services are reasonable. Our experts edit the videos in a way, that they carry the aesthetic appeal while improving the video quality.
360-degree real estate video stitching
At times, clients need to stitch various images at 360-degree together, so that they look convincing enough to the clients. We have the necessary technology and know how to carry out 360-degree real estate video stitching services. You can get across to us for these services.
Other techniques we use
Our team of video editors is trained with the latest editing technologies. We enhance the quality of videos through the following techniques:
Adjusting the sharpness
Colour modification
Background noise removal
Tilting
Imperfect pixel correction
Addition of 2D/3D effects
Enhancement of background scores
Up-scaling
Over the years, we have been catering to the needs of clients across the globe. At PGBS, we focus on the quality of services. Besides, we update the technical infrastructure on our platform, as soon as new editing technologies are available. This ensures that we can provide all sorts of support, requested by our clients. We understand that the range of requirements of our clients is varied. You can also reach out to us for the following services:
Benefits of hiring PGBS
Our client-oriented approach comes effective in fulfilling the needs of individual clients. The real estate developers are benefitted in the following ways from our services:
In promoting their property
Enhancing the visibility of the property in lesser time at an affordable cost
In attracting the buyers
In promoting the agent
Pricing plans at PGBS
Each of our clients have their own needs and the volume of resources to be allocated for each of these projects vary accordingly. Therefore, we have come up with variable video editing price lists for our clients. Our clients can pick from multiple price slabs. Our experts work in close collaboration with the clients, assessing their needs. The prices can be decided on an hourly rate. In certain cases, the rates per minute are also applicable. These pricing strategies enable us to come up with the most affordable packages for you.
Our pricing strategy contains the following elements:
The way cameras are used (Single or multiple cameras)
The length of the video at its source
Inserting logos and other animations
Voice-overs, if needed
Sub-titling
Technological infrastructure at PGBS
We integrate advanced software in the editing process to ensure high-quality videos. These include:
Our video editing process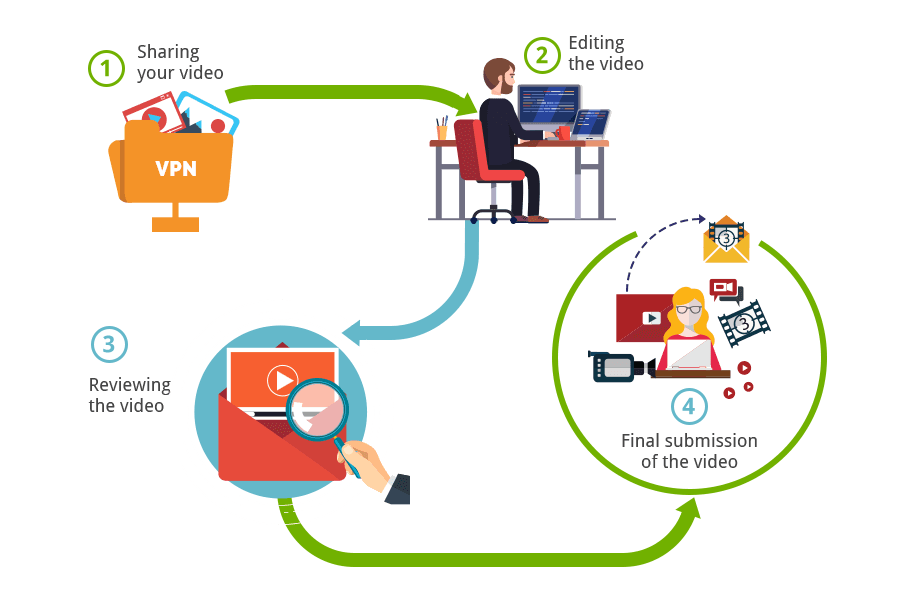 Sharing: Our clients share the recorded footage that needs to be edited. They can upload it through a secured VPN or FTP in any video file format.
Editing: Our editors edit the video as per the needs of our clients.
Reviewing: After editing, it is sent to the client for review.
Final submission: Our experts incorporate the necessary changes, according to the feedback provided by our clients. We submit the final version along with the course file to the clients.
Why should you outsource your real estate video editing services to PGBS?
Sophisticated technology and infrastructure
Expert team for video editing
Edge-cutting software
Top-notch guidelines from the experts
Fast delivery of services
Uncompromised policies for data security
Contact us right now!
It is important to present your property in the best possible way to the clients. If you are looking for any of the best video editing companies in India to enhance the quality of your video, you can reach us for classy and convincing real estate video editing services.
Contact us right now!