Jewelry photo editing services encompass the techniques and processes by which images of ornaments are enhanced to increasing their appeal and saleability.   For any online business, gaining the trust of customers is very important. The best thing to do for the same is making your images visually stunning and professional. This hold true in all cases and particularly when it comes to selling jewelry products.
Images are used to gauge the attractiveness of a product and it would not be an exaggeration to state that the success of any online shop selling ornaments alone relies solely on the picture of products. People look for the charm and charisma rather than benefits or features when it comes to jewelry and this is what you must realize. Proven Jewelry retouching techniques can be helpful to make your images appear crystal clear and captivating.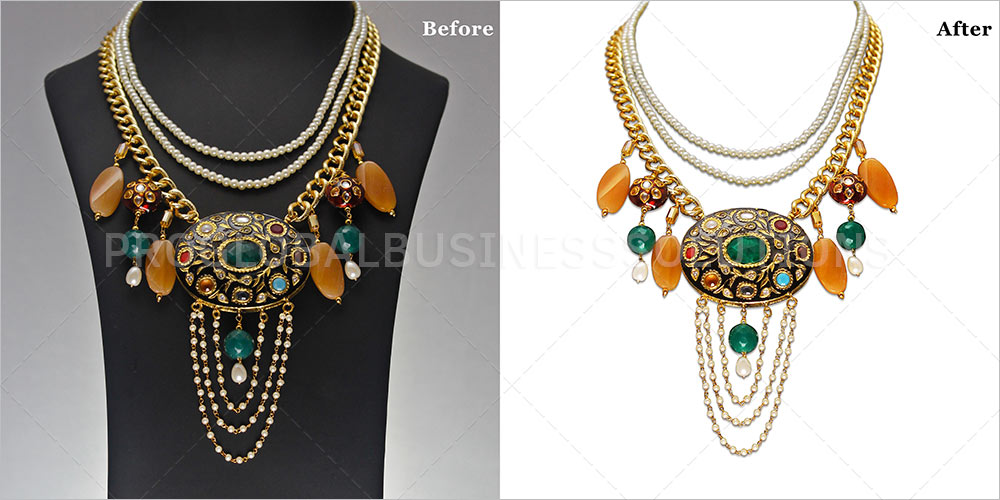 PGBS offers exceptionally remarkable class of image editing including photo retouching, image clipping and enhancement services. Jewelry image editing for quality elevation is one of our main fortes.
Jewelry retouching services – Way we help
Our team of experienced and professional image editing specialists will enhance your web catalogs by removing complete flaws and imperfections from the Jewelry images. We make your images a treat to the eyes of customers. Services from our photo editing company are pocket-friendly and we ensure quick turnaround time. The ambit of our services cover:
Old background elimination to isolate images
Scaling, resizing and cropping of images
Flaws and dark spots removal
Colour and lights correction
Jewelry photo editing services from PGBS
Dust parts and undesirable reflections elimination
Gemstone coloring changes
Gold coloring changes
Jewelry image clipping path
Creation of drop, natural and reflection creation
Removal of color cast and correction of color
Brightening of stones
Jewelry image clipping path services
With clipping path technique, selections can be made in the photographs and specific portions can be cut out. These can be put on new transparent and more suitable backgrounds. We use manual techniques to ensure best looks for you images. Based on the amount of  work that needs to be done, after analysing your photographs, we carry out different levels of jewelry image clipping path.
Basic
Moderate
Compound or extra
Shadow creation (Natural, drop and reflection)
Softening/ Flattening
Colour correction with multiple clipping path
Jewelry photo retouching services
In this process, damaged photos of jewelry are retouched by applying appropriate Photoshop adjustments. The iteration will continue till expected outputs are obtained. Based on the level of retouching to be done, we have classified the process into three
Simple retouching
Moderate retouching
Advanced retouching
In heavy retouching, extensive processes are involved based on the need. Few to mention are:
Cropping
Clipping
Background removal
Transparent white background addition
Applying masking
Correcting colours
Correcting exposure levels
Cleaning metal parts or stones
Read here about the different retouching techniques done in Photoshop.
Take your business to the next level. Outsource your requirements to us and with our professional jewelry photo editing and retouching services, your sales will tremendously increase, for sure.  Our jewelry retouching solutions avail you perfect results. We serve small businesses to medium and huge. For bulk orders, amazing discounts can be benefited.  Reach us today itself.