"Storage full!"
As a video editor, are you terrified about this error? Got too many high-definition videos but very few digital storage options at reasonable prices? Let this not hamper your video production workflow, especially when there are plenty of digital storage services.
These digital storage spaces have been the go-to solution for years now. From cloud-based solutions to external hard disks like SSDs and HHDs, you can choose from a variety of options based on your requirements and budget. Even local management solutions like NAS, internal drives, etc., are professional choices.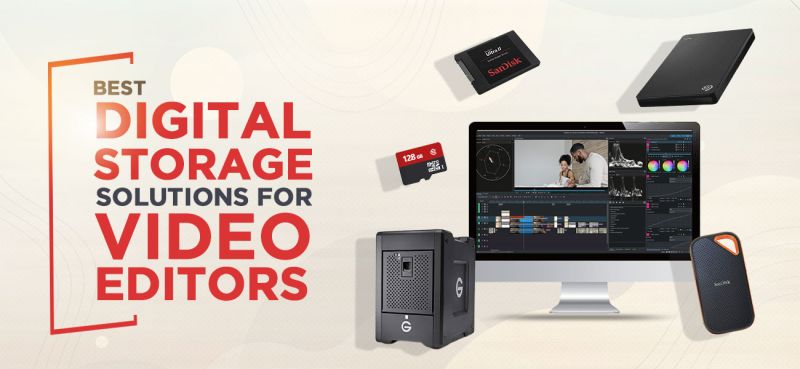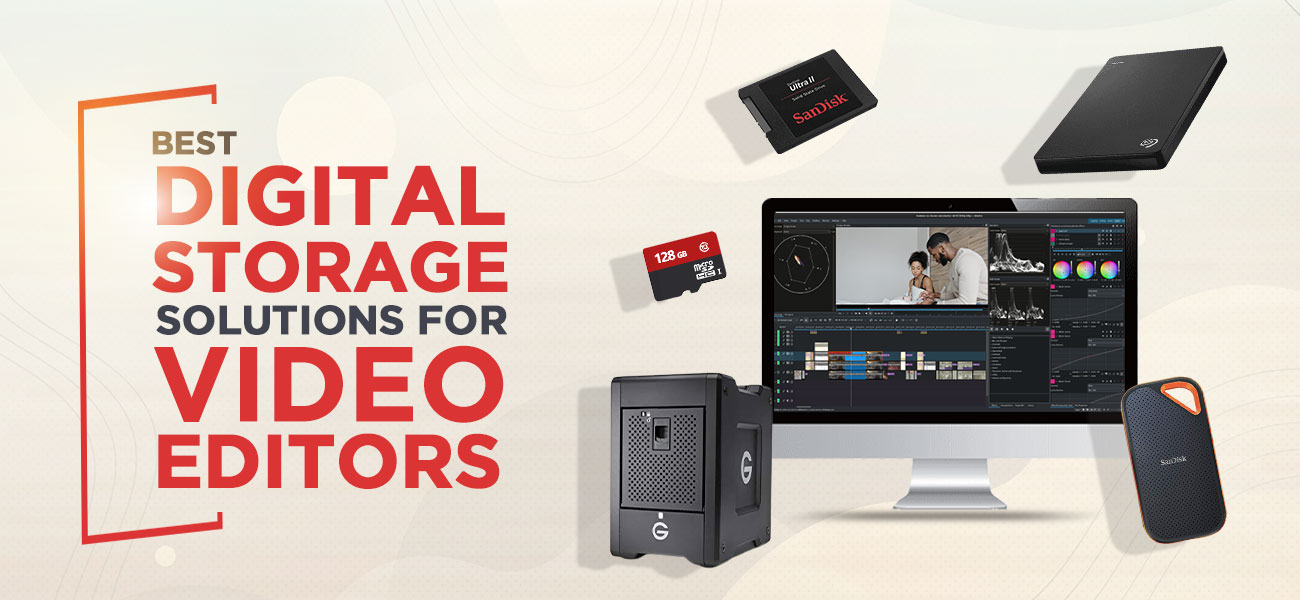 Explore options
Top 9 Cloud Storage Solutions
Blomp is a freemium cloud storage application used for backing up and organizing high-end photos, videos, audio files, and documents online without a pocket crunch. It employs two software programs, BlompLive and BlompGo. These are ideal for uploading multiple media files at once via a desktop or mobile application. You can also import files from Google Drive, Dropbox, etc.

Cloud type: Private

Upload limit: Unlimited even for free users

Backup expiry: Every 30 days (Free Plan)

Total storage: 2GB – 10 TB

Free plan: Get 20 GB after signing up and additional an 20 GB for every friend or family member who joins on your referral. You can do this up to 200 GB.
$0.99/month: 250 GB
$2.99/month: 2 TB
$9.99/month: 10 TB

OS Compatibility: Windows, Mac, Ubuntu Linux, Android, iOS

Latest version released: 1.18.4 (Windows)

Google Drive
Google Drive is everyone's handy software to back up, organize, and share multimedia most securely. Allows multiple users to work simultaneously, helps view files even in offline mode, and integrates operations with other Google cloud services. It also supports the resume option, even for larger files.
Cloud type: PrivateUpload limit: 750 GB/per day (Paid plans)Maximum file size for upload: 5 TBBackup expiry: 57 days after 2 weeks of not using the device linked to the drive (Mobile backup)

Total storage: 15 GB – 2 TB

Pricing plans:

Free: 15 GB
Basic: 100 GB for $1.59/month
Standard: 200 GB for $2.57/month
Premium: 2 TB for $7.95/month

OS Compatibility: Windows, Mac, Linux, Android, iOS

Latest version released: Version 70.0 on 01/30/23 (Windows and Mac)

Degoo is an AI-based cloud storage platform for video editors. Offers automated uploads, reports on real-time backup, import from external drives, and an option to restore files offline.

Cloud type: Private

Upload limit: 500 files simultaneously

Maximum file size for upload: 256 MB/file (Free), 50 GB/file (Paid)

Backup expiry: Account is deleted with 90-day inactivity (Free users)

Total storage: 20 GB – 50 TB

Free trial: 14 days
Free version: 20 GB – 100 GB (Get 250 MB as referral benefit and 5 GB as referral bonus)
Pro: 500 GB for $2.99/month (Get 1 GB for referred friend and 20 GB as referral bonus)
Ultimate: 5 TB for $9.99/month (Get 1 GB for referred friend and 20 GB as referral bonus)

For updates from 15 TB to 50 TB, visit https://bit.ly/3HmCok0.

OS Compatibility: Android, iOS, and a web app suitable for all OS

Latest version released: 2.51.0 on 01/11/23

IDrive stands out from the rest with its hybrid digital storage solutions that help video editors store on the cloud and locally. It also eases the process of retrieving deleted files through the iDrive Automatic Archive Cleanup process. Users can also access up to 30 previous versions of a single file.

Cloud type: Hybrid

Upload limit: Unlimited

Maximum file size for upload: 2 GB/file

Backup expiry: Files in the trash will be deleted after 30 days

Total storage: 10 GB – 50 TB

Basic: 10 GB (Free)
IDrive Mini: 100 GB ($2.95/year per user) and 500 GB ($9.95/year)
IDrive Personal: One user on multiple computers

5 TB ($59.62/year)
10 TB ($74.62/year)
20 TB ($149.62/year)
50 TB ($374.62/year)

IDrive Team: 5 TB – 500 TB

5 TB ($74.62/year) for 5 computers and users
10 TB ($149.62/year) for 10 computers and users
25 TB ($374.62/year) for 25 computers and users
30 TB ($449.62/year) for 30 computers and users

IDrive Business: 250 GB – 50 TB for unlimited users, multiple devices and servers, NAS devices, etc.

250 GB ($74.62/year)
500 GB ($149.62/year)
25 TB ($374.62/year)
5 TB ($599.62/year)

and so on.

OS Compatibility: Windows, Mac, Linux, Android, iOS

Latest version released: 6.7.4.36 on 1/11/23

Similar to Google Drive, OneDrive offers access to both cloud storage and other Microsoft Office bundles. It's also easy to manage, store, and share files with multiple users. However, it still has a bumpy privacy policy.

Cloud type: Private

Upload limit: Unlimited (Paid)

Maximum file size for upload: 5 GB (Free users), 250 GB (Paid personal account), 15 GB (Paid business account)

Backup expiry: Files in the trash will be deleted after 30 days for personal accounts and 93 days for business accounts

Total storage: 5 GB – 6 TB

Pricing plans:

Free: 5 GB
Microsoft 365 Basic: 100 GB at $19.99/year per user
Microsoft 365 Personal: 1 TB at $69.99/year per user
Microsoft 365 Family: 6 TB at $99.99/year for up to 6 users

For business plans, visit https://bit.ly/3XR8IlS.

OS Compatibility: Windows, Mac, Android, iOS

Latest version released: 23.007.0109.0004 on 01/23/23

MediaFire is a top-rated software for effective digital data storage, management, and collaboration. Users can upload unlimited files from any browser and share them on social media too. With a simple interface, this software helps video editors ease their workflow.

Cloud type: Private

Upload limit: Unlimited

Maximum file size for upload: Up to 20 GB (All users)

Backup expiry: Deletes a free account if it's not active at least once a year

Total storage: 10 GB – 2 TB

Free: 10 GB (Extend up to 49 GB through referrals, installing the mobile app, and connecting and tweeting about the app on Twitter)
Pro: 1 TB at $3.75/month per user
Business: 2 TB at $50/month for up to 100 users

OS Compatibility: Windows, Mac, Linux, Android, iOS

Latest version released: 4.2.8

Koofr is one of the most affordable digital storage solutions with a unique feature that allows users to access files on a system without cloud sync. It secures files through SSL/TSL. Allows access to up to 5 versions of a single file and cloud connections with 2 external cloud platforms. An update to Koofr Vault in its recent version has increased the security of the files that are shared.

Cloud type: Private and public sharing supported

Upload limit: 50 GB/day for public sharing (Free), 200 GB to 4 TB for public sharing (Paid)

Maximum file size for upload: Any file size

Backup expiry: Media in the trash gets deleted after 7 days (Free) or 30 days (Paid)

Total storage: 10 GB – 20 TB

Free: 10 GB
Briefcase: 10 GB at $0.54/month and 25 GB at $1.09/month
Suitcase: 100 GB at $2.18/month, 250 GB at $4.36/month, 1 TB at $10.9/month
Crate: 2.5 TB at $21.79/month, 10 TB at $65.37/month, 20 TB at $130.74/month

OS Compatibility: Windows, Mac, Linux, Android, iOS

Latest version released: 3.3.0 (Android)

Dropbox is, by far, the best app for storing large files. It can be easily synced with other external cloud platforms for convenient access and management. It's also proven to be the fastest for file sharing.

Cloud type: Private

Upload limit: Accounts with 300,000+ files might face poor performance

Maximum file size for upload: Up to 2 TB (software), 50 GB (web application)

Backup expiry for deleted files: 30 days (Free), 180 days (Paid)

Total storage: 2 GB – Custom quote

Free: 2 GB/user
Plus: 2 TB at $9.99/month per user
Family: 2 TB at $16.99/month for up to 6 users

The following plans come with a 30-day free trial:

Standard: 5 TB at $15/month per user for up to 3+ users
Professional: 3 TB at $16.58/month per user
Advanced: As much storage as needed at $24/month per user

OS Compatibility: Windows, Mac, Linux, Android, iOS

Latest version released: 166.4.2920 on 01/24/23

Mega is one of the most accessible, affordable, and useful cloud storage programs. Automates computer data synchronization. With E2E encryption and no third-party collaboration, it ensures a high level of data privacy. Also supports offline file access.

Cloud type: Private

Upload limit: Unlimited

Maximum file size for upload: Unlimited (even for free users)

Backup expiry: Lifetime for all uploaded files

Total storage: 2 GB – Custom quote

Pricing plans for individuals:

Free: 20 GB
Pro Lite: 400 GB storage and 1 TB transfer at $5.41/month
Pro I: 2 TB storage and 2 TB transfer at $10.84/month
Pro II: 8 TB storage and 8 TB transfer at $21.68/month
Pro III: 16 TB storage and 16 TB transfer at $32.53/month

Get a custom quote for your team of a minimum of 3 users at https://mega.io/pro.

OS Compatibility: Windows, Mac, Linux, Android, iOS

Latest version released: 9.3 on 02/01/23
Solutions for Large Studios
If your company dealing with large videos and looking for digital storage solutions? Apart from the cloud applications, you can also avail of the following options that come with large storage spaces.
External Hard Drives: SSDs and HHDs
Solid-State Drives (SSD) and Hybrid Hard Drives (HHD) are age-old practices of sharing digital files in this modern era. Though it helps store files on a secured platform and in large volumes, it's impossible to share files with multiple users at once.
Nowadays, video editors rely on these for backups and archives of files that do not need frequent edits or sharing.
Know the differences between SSD and HHD before you buy.
| SSD | HHD |
| --- | --- |
| Uses memory chips for data storage | Uses spinning disks with a moving head to read or write |
| Expensive | Reasonable cost |
| Works faster | Operates slower |
| Suitable for large files like films, software, etc. | Best for photos, videos, documents, etc. |
Local storage
Apart from portable local storage solutions, you can also rely on the following network-oriented services for easy collaboration.
Internal Drive: Refers to the built-in hard disk of any digital device.
NAS: Network Attached Storage helps sync files over a server and not on physical equipment like a hard disk or pen drive. When installed correctly, users can share files with others in a limited range.
Local File Management Software: There are numerous free and open-source software options that help users back up local files offline.
Best local storage software for video editors: BlackBlaze, Veeam Backup & Replication, etc.
Pro Tip
The best digital storage solutions for video editors, video production company, and video post-production companies are numerous. A choice is made based on the user requirements concerning storage and sharing, file size, and the project budget. Although cloud-based storage services are the best in terms of affordability and accessibility, local solutions like hard disks need not be kept out of the discussion.
Stay tuned for more tips and tricks on video editing.