The role played by tri-fold brochures in your marketing initiatives can never be overlooked. Though web world has become really dominant, printed advertising tools are still relevant. Here are some tips that which enhance the overall quality of custom brochure designs.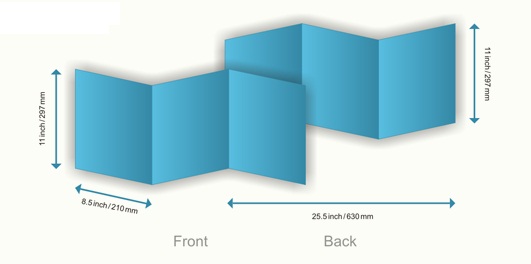 Margins should be put up correctly. Outer margins should be only half wide as those that are in between the panels. Though it may seem a bit odd, it will assure that the size is same for both right and left margins when it is folded.
If the printer avails you template, using it would be sensible. Commonly, it is seen that the outer flap is slightly larger than the inside one. Thus the brochure done by an Indian expert service provider opens and folds neatly. Even if you can figure out the details by yourself, preferring a template will see to it that it meets the expectation of printer and is correct.
The order in which you place the information on the designed material is highly decisive in the sales you grab. A custom marketing material design service provider places the information aptly based on numerous factors to guarantee best results for you.
The main downside is that all the panels are considerably narrow. So the company in India providing custom brochure design services must be capable of fitting all type of contents with perfection.
The biggest mistake a lot of people do is that once they get a pleasing soft copy, they consider the work successful and close the project. However it is always advisable to take it's print out and fold it. This will only assure that you have received exactly what you were expecting.
Now the most important thing is that you must select the best graphic designing company that has great portfolio to showcase for brochure design services.