Why is your wedding video so important? Yes, because it captures some fabulous moments you will want to treasure forever. People have huge expectations from final wedding video versions, and perfect editing of those videos is essential.
Many video editors are entering the market and they are enriched with several advanced features that make video editing as creative and fast as possible. Wedding video editing is a bit tedious and a frustrating task. Retouching like a pro preserves quality without requiring more time in front of your computer.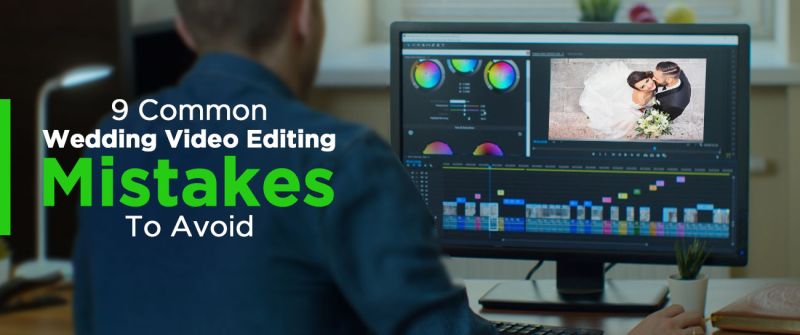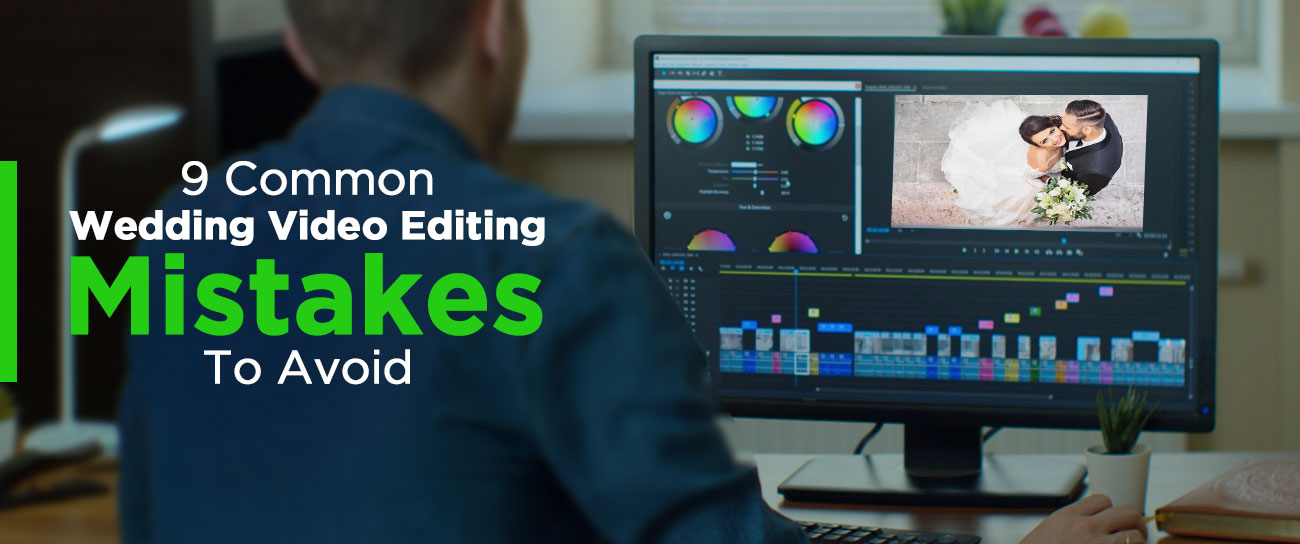 Some simple and important tips for editing your wedding without any mistakes discussed in the blog.
Avoiding jump cuts

Jump cuts have become common but are generally something to be avoided in the editing of videos. A cut in which a portion of action gets chopped out and time jumps ahead is what we call a jump cut. To avoid such cuts, you need to try cutting on measures. Hiding jump cuts help us hide imperfections.

There will be an unnatural bridge when the two parts of the motion sequence are put together. A logical progression is always necessary, even if you are not going for a chronological clip.

Flash Frames

Flash frames occur when a random structure is introduced accidentally into your video edit. Cutting one shot to another and replacing that shot, and placing it off by a frame flashes on for a moment. This brief moment can be distracting for a viewer. Make sure you watch out for the flash frames in your timeline. It's a common retouching mistake not to be missed by an editor.

Long shots are not appreciated

While doing wedding video retouching, the pacing is an important concept you will need to acquaint yourself with. An amazing and attractive rhythm needs to be followed by the shots giving your video a dynamic appeal.

Hanging on a moment for too long is not a great idea and might ruin the overall video pacing. Your visuals need to have a seamless flow. Too long scenes are boring, and a temporary location might cause missing details. Experience and practice can let you fix this error.

Mixing of audios

A professional audio mixer can handle the audio needs. Poor audio makes your video look unprofessional. Your retouching might be the best, but you fail to execute the perfect audio mix. It will negatively impact your viewers and make them lose interest in your video. An editor must make sure that the background music stays in the background. It should not interfere with sound and dialogue in the video. Sensible sound effects will positively impact your videos and add realism to the scenes.

Wedding videos are not just all about visuals. Audio also plays a crucial role. It includes music, background noises, wedding vows, and more. The importance of quality audio should not be underestimated. Editors should make perfect adjustments to enhance the sound of the videos. The lack of blending between different audio tracks is the most serious concern.

Focus on sound just by closing your eyes, and this makes you catch any slight background noise that can distract the audience's attention. Audio issues should be solved in the editing stage, and if you are not that confident in your retouching capability, outsourcing the wedding video editing can be considered.

Special effects should not be overloaded

There are different video editing software that comes with amazing editing capabilities. Animation, special effects, graphics, and more are available in dozens. They can contribute to the most fabulous film retouching. But if it's overdone with the special effects, your final output might lose its charm.

The ghost frames – a serious error

While using dissolve transitions to cut from one scene to another, a ghost frame occurs. Make sure the scenes are not getting overlaid, and the traces of the first scene linger too long. The outgoing shout should never cut into the next one before it disappears. You have to trim your footage that's outgoing till the moment your shot ends.

Color grading

Mismatched footage colors are a big mistake that editing needs to avoid. Color mismatch shows how unprofessionally the wedding videos have been edited. As the footage is created over long hours, this common mistake is typical in wedding videos. Different venues and light conditions result in some shots being warmer. Visual consistency is a must to keep your final output looking professional from start to finish.

Match Frames

The continuity issue that results in jarring a viewer is referred to as a matching frame. This is caused when an editor cuts from a single camera angle to another. However, it reflects like all are similar angles. When there is a cut, viewers should feel like they are getting to watch a different viewpoint. These frames need to be avoided like the jump cuts by adding in cutaway shots breaking up the two images.

Graphics

Graphics are also essential in every video but using them only when they are needed is a great skill an editor should have. Ensure you use clean and easy graphics to achieve a good outcome. It should not be a distracting factor. Rather it should create an aesthetic appeal to your wedding videos.
Conclusion
Editing videos is an important skill of a videographer. It makes and breaks the quality of your wedding videos. If you are that much capable of professionally editing your videos, you can do it on your own. If you feel that will ruin the film, please outsource wedding video editing. Our video editors can help you make your wedding videos worth remembering.
We can take care of the post-production process and save you time. Choosing us for your video editing needs can give you more time to film more weddings.  Color grading, corrections, transitions, edits, whatever you name, we will do it for you. Our editing service can delight your existing clients and attract new customers. We have a collective of well-experienced editors to serve you.
Connect with us, and let's take your wedding videos to the next level.