Do you want to enrich your knowledge about the best 3D design software required to create high-end 3D characters, assets and other elements? Give this blog a read, and by the end of it, you shall have a fair understanding of the right kind of software you shall need, and how they can help unleash your creativity in 3D artwork.
From video games to movie, from product images to prototypes – 3D designs or 3-Dimensional designs are an extremely essential part for every designer these days. Though initially, designing 3D models might seem challenging, with time, practice and with the right software, the process becomes easier.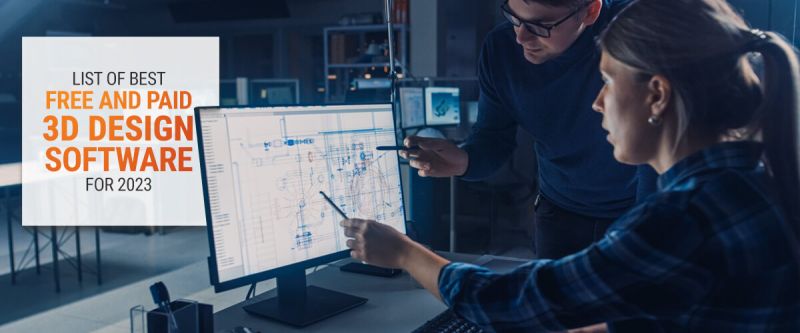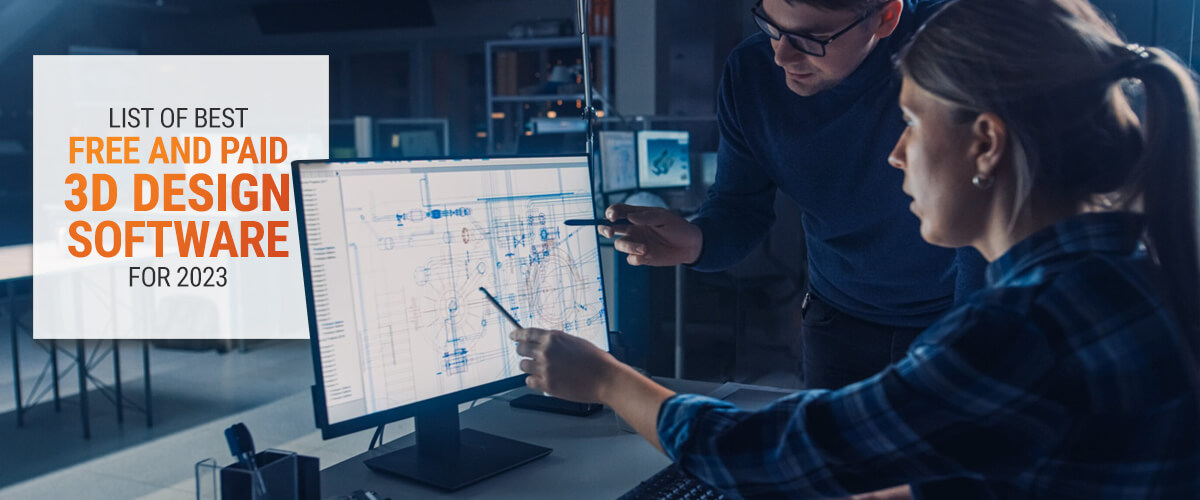 What is a 3D design software?
3D design software is a class of 3D computer graphics software used to produce and render the 3D models. It is a visualization tool that is used by 3D artists to create 3-dimensional mathematical representations of an object.
4 Main Stages of 3D Design
There are 4 main components of any 3D design or 3D video content. The level of complexity of each stage is a bit more complex than the preceding one. The time taken to complete the stages also depends on the complexity level.
3D Modeling

3D modeling is the stage where the surface of any model or object is developed through a mathematical coordinate-based representation. In simple terms, this stage allows the 3D artist to determine the size, shape, and texture of an object.

3D Texturing

In 3d texturing stage the models are applied with natural textures, light and shadows, etc., to give the 3D model the maximum realistic look and feel. In simple terms, this is the stage where a 3D artist dresses up the 3D models with 2D pictures/visual elements.

3D Rigging

This stage is crucial as here the range of action and gestures of a 3D model is defined. Through a series of interconnected digital bones, the movement, gestures, poses, gait, all are defined which simplifies the animation process. Simply put, this technique is creating an invisible bone structure, or a skeleton animation that defined how the object will move.

3D Rendering

Here in this stage, 3D models are converted into 2D images or animated videos using three-dimensional data. This process is done with the help of 3D rendering software that add natural simulation like atmosphere, optical effects, landscapes, buildings, animated characters, etc. The software "photographs" each pixel of the image, which implies the process of rendering a whole frame, is substantially time-consuming.
Owing to the technology being adopted by numerous industries, several software that facilitate 3D designs creation, are there to avail.
There are multiple variants of these 3D software, which are leveraged for different purposes. Let's discuss some of them.
List of 3D Modeling Software
Type: Subscription
Pricing: $245/month

For most of the professional 3D artists, Maya is their go-to software. Mainly because the software is braced with amazing features that generate jaw-dropping final products. Even Pixar uses it. However, Maya doesn't come cheap and is an expensive software per se. However, the array of features and tools offered in the subscription package, compensate for the pricing.

Type: License
Pricing: $1995, $4495, or $499/year

Well, more or less similar to Autodesk Maya, Houdini is another go-to tool for most 3D professionals. It is one of the industry-standard tools that utilize a different technique than Maya – it uses a node-based procedural style of modeling, which enables artists to have much more control. This also doesn't come cheap, but if you are serious about the outcome, go for Houdini!

Type: Subscription
Pricing: $245/month

Another tool offered by Autodesk, the Mudbox is one of the easiest and most used 3D modeling software, which involves an intuitive and tactile toolset. Increase poly counts, adjust the layers and set up the models until they are hyper-realistic.

Type: License
Price: $895

If you plan to design sculpt model of animals, locations, people with complex facial details and muscle sinews – go for ZBrush without much ado. Most of the high-end animated movies we see avail this tool without a doubt. Especially in the video gaming industry, ZBrush has solidified its name, for e.g., creating vinyl toys or action figures.

Type: License
Price: $480/year to $2,850

This is another major competitor of Maya when compared to precision and quality. Designed to create life-like motion graphics with smooth transitions, Cinema 4D is the best choice for professional 3D animators. The only downside being, the cost.

Type: FreeSince 2002, this free 3d modeling software is the king of free 3D modeling tools and the best choice for beginners. The software runs on most of the major OSs, making it highly compatible and convenient open-source software. They constantly do some updations here and there, which allow the user all the more quality rigging, texturing, and sculpting processes.

A moderately good software for standard 3D arts, furniture designs, and layouts. Super choice for aspirant interior designers to create isometric designs in a sketch-based manner. A free 3D modeling software that is compatible with major operating systems.

This software is recently made free to all, for novices and veterans both, and is specially designed for creating high-end 3D models replicating creatures, humans, and other sentient beings.

Anyone passionate about character design can simply opt for MakeHuman that offers an array of handy tools. Designing humanoid characters, combining meshes and creating interesting characters become all the more engaging with this software.
Know more in detail about diverse 3d modeling software.
List of 3D Texturing Software
License: Paid ($20.99/m)
Trial Available

A node-based texturing utility that can create Substance files or bitmap textures. Substance Designer is considered to be one of the best texturing software. However, as we speak, from 30th September, 2022, users will no longer have the access to Substance 3D owing to its parent company Allegorithmic's acquisition by the creative tech giant, Adobe.

Nonetheless, users who have created their Adobe accounts can seamlessly access to Adobe Substance 3D.

License: Paid (Starts from 19/m)
Free version available

An extremely fun and easy to use texturing tool, Quixel Mixer is intuitive, fast, supports Multiple Texture Sets and UDIMs. As well as the tool offers an array of new and updated features, Smart Materials, and conducts continuous improvements. Mixer users can blend and modify megascans and create custom textures with perfectly crafted material patterns.

SaaS-based
Trial Available

Professionals who take up digital art as their passion and job, Photoshop is their favorite. It is one of the finest texture painting software that has garnered massive popularity over the years, since its inception in the 80s. Photoshop's newest feature, The Creative Cloud Library – is a revolutionary upgrade that allows users to save their work and continue from anywhere.

License – One-Time ($2,280), Subscription ($54.91/m)
Trial Available

This high resolution software enables digital drawing on 3D models. This tool has got all the qualities to provide unlimited texture painting to 3D artists and 3D specialists. Mari is extensively used in 3D-enabled movies, gaming industries, and VFX as it can deal seamlessly with highly sophisticated textures.

Pricing: $18
No Free Trial

A stand-alone, open-source software that is designed meticulously for physically-based texture painting (PBR). A generally GPU-based software that is compatible with Windows and Linux, ArmorPaint is a major alternative to Adobe Substance Painter. Released in early 2018, the software goes through continuous upgradations with its latest stable build being 0.6. Similar to Substance Painter, ArmorPaint allows 3D texturing experts to texture the models by painting directly on their surface in a real-time 3D viewport.
Know more in detail about diverse 3d texturing software.
List of 3D Rendering Software
Pricing – Each Tool has respective pricing
Free Trial Available

Autodesk comes with a bouquet of 3D rendering tools dedicated to different types of rendering. Namely, Software renders, Hardware renders, Vector renders, and Cloud renders. The Autodesk 3D rendering software suite has got multiple tools like the 3ds Max ($1,785 /year), Arnold ($380 /year), Maya ($290 /year), Revit ($495 /year), Alias ($4,900 /year), VRED ($13,615/year), so and so forth. Free trials are available for each of the software before you make your decision to select one.

Pricing – License for €1000
Free Trial Available

A commercial 3D CG graphics and CAD software developed by Robert McNeil & Friends, an American, privately held, and employee-owned company. Rhinoceros 3D is primarily used in architectural designs, product designs like jewelries, industrial designs like automotive, watercrafts designs, etc. With addition to these sectors, Rhinoceros 3D is also used in the Multimedia and graphic design industries. This software has taken the world by storm as it is compatible with most designs, drafting, prototyping, CAM, illustration, and rendering programs. The software has numerous complex 3D modeling tools that use curves technique, or NURBS (Non-Uniform Rational Basis Spline), which is a mathematical model that renders life-like curves and surfaces on computer generated graphics.

Pricing – Nodelocked Option is $495
Floating Option is $695
Free Trial Available

Compatible with Windows, MACOS, and Linux, Maxwell Render is one of the most popular rendering tools available for pros and novices. The application is extremely user-friendly, with a powerful rendering toolbox that allows you to design anything you want. The software has a feature-rich engine that combines lighting with materials generating hyper-realistic animations and images. Maxwell Render comes with some amazing features like Volumetrics Particle Rendering, Multi-Light FIRE, Network Rendering Post Production, Compatibility with many hair systems, Materials Realistic Camera Model – and many more. Mainly used in the automobile industry, interior designing, architectural industry, jewelry, movies – Maxwell Render is indeed a state-of-the-art render engine.

A fast, lean, and elegant rendering and animation tool that should be in every 3D artist's arsenal. This software package is rich with multiple tools that allow different kinds of editing and rendering operations. Like from high-poly editing on advanced subdivision modeling, to Boolean operations and Bezier spline. Apart from these, one can get Global Illumination, Caustics, Ray tracing, HDRI, and many other features that make Cheetah3D a great tool in the current time.

Pricing – License costs $629/year
Free Trial Available

If you are up for limitless possibilities and flexibility, with access to 15 Chaos products with just one license, try out the V-Ray collection today. A 3D artist can work freely between multiple different 3D applications, real-time scene exploration, fluid simulation, photo-realistic rendering, and much more. All of these make the V-Ray Collection the ultimate software you can have. Used in numerous industries, namely, automotive, gaming, architecture, VFX – V-Ray works seamlessly giving the artists total freedom.

Pricing – Floating License costs $778,80/year
Fixed-seat License costs $454,80/year
Trial Available

Another one of the leading 3D rendering engines that empowers your design with real-time rendering in a fastest and easiest way. You can directly plug it into your modeling software and get a better design and visual workflow. This tool can be used with files from Rhine, Revit, SketchUp, etc., and then exported as standalone usable files.

Pricing – €600
No Free Trial

This software is primarily leveraged in the architectural industry owing to its high-end lighting features for both indoor and outdoor scenes. One can create numerous lighting scenes with Artlantis like directional light, spot, heliodon, bulb, sky, and many more.

Special effects like atmospheres, depth of field, halo, turbulence, diffraction; these can also be created seamlessly with this pioneering architectural visualization software. And that's reason why it is the go-to choice of most urban planners, interior designers and artists, architects, real-estate planners, etc.

Pricing – €3999 per month
Free Trial Available

Wish to enhance the visual appeal of the final product? Maverick Studio is the best you can get. A GPU-accelerated desktop application that aims to provide high-quality, creative, and full spectral rendering.

The proprietary simulator has intuitive and interactive drag and drop tools. 3D artists can import their 3D models or CAD data files, and generate amazing photo-realistic shots. External UV-mapping isn't required since Maverick Studio has a built-in UV map system, which makes choosing triplanar projection and adjusting material scale amazingly easy.

Pricing: Subscription-Based ($720/m)
Free Version Available

A cutting-edge rendering engine, 3Delight is developed for optimum compatibility with computer graphic cards and hassle-free film effects. Also, the speed of the software is worth mentioning. 3Delight comes with powerful lighting tools, a friendly UX, supports physical materials and OpenExr, OpenVDB standards. It also has multiple rendering algorithms that makes the hyper-realistic photo generation possible.
Know more in detail about diverse 3d rendering software.
Conclusion
To conclude, choosing the best 3D design software depends on what you use it for. We hope this compilation is helpful for you in choosing the best one that is going to aid you in the long run. Initially, it is a difficult task, though, as certain tools work best for a specific set of functions.
But once you get a clear understanding of each of them, selecting the right software is no big deal. Just focus on the features and benefits each software will give you, and then go for your pick. Alternatively, reach out to a team of professionals for any 3D requirements you have. Whether you are a professional 3D artist looking to outsource some of your projects, or a business owner looking for a steady partner for all kinds of high-end 3D artwork, professional help is a great idea!