The significant impact that 3D modeling has had on numerous industries and production sectors still lacks the much-needed research it deserves.
The phenomenal influence of this technology, which has become integral to manufacturers, production designers, and engineers alike, speaks volumes about its functional benefits.
So today, let's discuss in detail and unfurl what kind of benefits and applications 3D modeling has for the new-age production and marketing realms.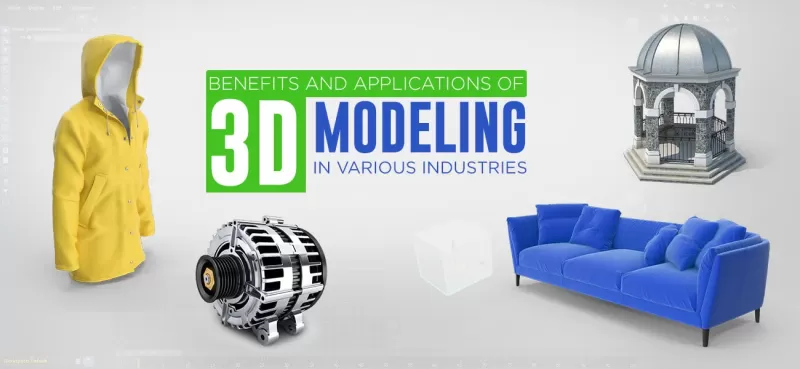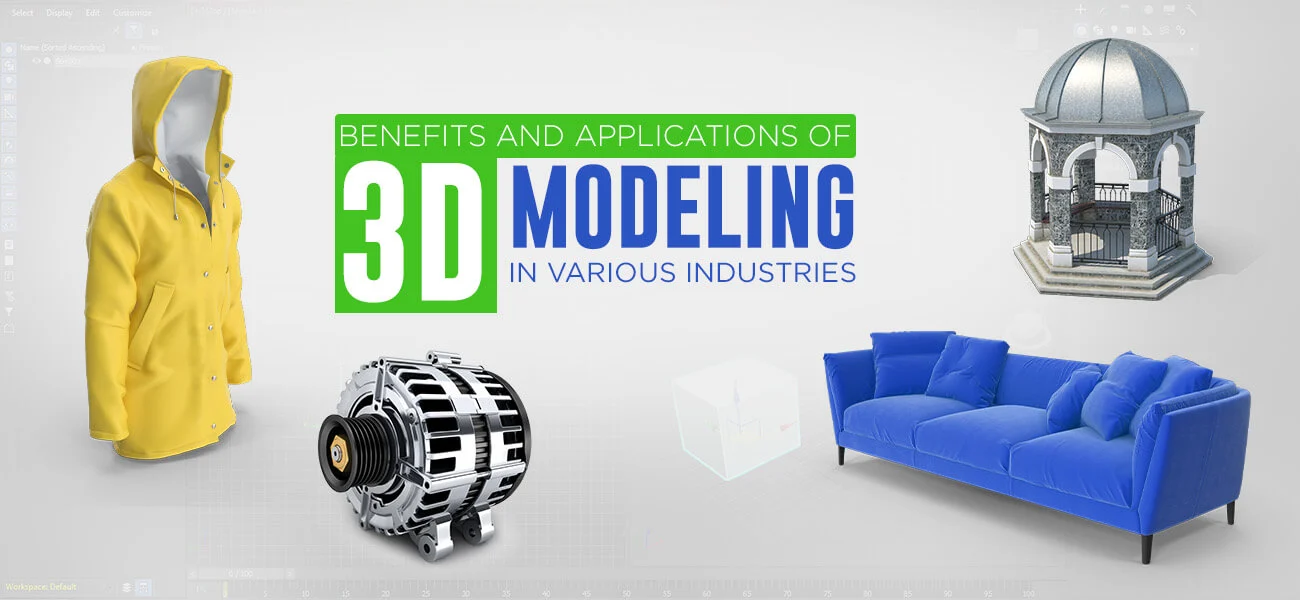 The ultimate benefits and widespread applications of 3D modeling across various industries
With a plethora of business organizations leveraging 3D-modeled parts and objects for marketing purposes, it is quite easy to tell that 3D-designed or 3D-printed objects have some great positive impacts on prospective buyers.
Not just the prospects, 3D model designs give a competitive edge to the production engineers as well to identify operational and functional flaws before even the design gets into production. Let's find out one by one.
eCommerce

3D modeling for eCommerce industry benefits come in a lot of shapes. They facilitate comfort, informed decision-making, and various forms of digital interaction, and many such amenities, especially ascribed to eCommerce. Moreover, following the COVID-19 pandemic, the entire world moved on to online commerce, from buying products and furniture goods, to purchasing homes.

eCommerce products like cosmetics and beauty products, apparel, eyewear, footwear, IoT devices like Smartphones, Smartwatches, Smart TVs, jewelries, and so much more are now modeled in 3D first and showcased on the eCommerce stores for buyers to make their choices.

Ornaments and jewelries can be tailor-made per the requisites of the buyers, satisfying them without much production cost. Moreover, such use cases can be referred to and implemented in future designs.

With 360-degree product spins and AR views, consumers can get a realistic shopping experience similar to a brick-and-mortar store. They can get a closer look at the products in high resolution, even see how they would look on them or within their lifestyles, and configure color schemes with 360-degree CG configurators.

The CG configurator and the 360-degree view can be made from high-poly and low-poly 3D models keeping the quality intact. All these facilities and uses of 3D modeling bring compelling benefits to the eCommerce and e-tail sector.

Architecture

The architecture sector is one of the critical parts of the overall real estate market, which includes architecture designs, construction designs, interior/exterior designs, floor plans, wall decoration, furniture placement, and so on. Gone are the days when architects and civil engineers had to draw everything with paper and pencil and develop blueprints.

There are highly experienced 3D architectural visualization service providers who can create 3D models that act as building blocks for architects with techniques like "Primitive modeling". These shapes and objects are instrumental in developing more complex shapes in 3D space, which ultimately help in visualizing the final layout of the building.

Then there is "BIM modeling" (Building Information Modeling), that has brought disruption to the AEC (Architecture, Engineering, and Construction) industry. BIM models are 3D representations of a building's geometry, materials, construction schedules, etc.

These details help the AEC constructors, engineers, and architects plan the construction structures within a simulated environment. This 3D environment helps them detect potential operational, design, or construction-related issues.

Automobiles and automotive

In recent years, the manifold advantages of 3D modeling have made carmakers vehemently utilize the procedure to develop prototypes, thereby giving customers more aesthetic choices. When a car prototype is made, the design goes through several layers of quality checking, user testing, and so on, which further determine the usability of the car model.

All these are done through custom-created 3D models of the car parts with 3D printing methods like FFF (Fused Filament Fabrication) that not just create prototypes, but also generate end-use parts. 3D designs of jigs, molds, fixtures, grips, and many other automobile components can be produced at a fairly low cost compared to traditional subtractive manufacturing.

This also helps in customizing vehicle parts per the buyers' needs. BMW North America has aptly leveraged AR models for their EVs, giving interested buyers an AR-driven experience.

Also, car companies utilize VR for "virtual test drives" simulated within a virtual environment. Highly experienced 3D experts can create accurate 3D models and assets for VR applications. Such a unique purchase experience contributes to a lower bounce rate and skyrocketed lead conversion.

Professional agencies that offer custom 3D model design services possess the ideal competency for developing accurate designs made in 3D.

Animated movies

Three-dimensional representations of characters like humans, animals, humanoids, anthropomorphic characters, weapons, roads, vehicles, trees, hills, mountains, rivers, environments, and more are developed with advanced 3D design software.

These accurate models can be further animated and projected in movie format, beautified with SFX and VFX, and given special background scores.

We have seen several internationally famed animation production houses leverage 3D modeling for their high-end animated movies.

Healthcare

3D modeling techniques have been a boon to the medical and healthcare sectors, facilitating advanced research, accurate diagnosis, and treatment, as well as more engaging ways of imparting medical knowledge to students.

For example, with 3D prototyping, artificial models of the human body and anatomical parts are developed that replicate the exact dimensions and alignments as in the human body. These models can then be utilized to explore the human anatomy on a deeper level.

Not only this, but dentures could also be developed in 3D to understand oral cavities and other dentistry-related things. Medical professionals, surgeons, etc., can discuss the latest treatments and surgeries with their patients without any ambiguity.

Also, for research purposes, models of chemical and molecular structures and high-definition 3D imaging of raw data are being used in the medical field.

Fashion

There's a term frequently used in the high fashion and tailored luxury industry, "haute couture", a French term denoting "high sewing". Well, haute couture is a well-known design trend that has swooned the fashion industry since the 1940s. With the advent of 3D technology, the custom-fit high-end fashion sector substantially bloomed; let's discuss this in detail.

With the latest 3D modeling software for clothing, high-profile fashion designers can develop 3D models of their designs, configure them and customize the same before nodding off for production. Old-school procedures of sketching designs on paper are on the verge of becoming obsolete. Since now, when contemporary designers ask to create 3D models from photo, the production process is much faster and more convenient.

Besides designing the apparel, designers can also see how the dresses look on an actual human body. With further advancements in AR, online buyers can also take "virtual trials" of the dresses without moving an inch from the comfort of their homes. This has tremendously escalated their online shopping experience, culminating in more sales.

More and more fashion houses are leaning toward 3D modeling and 3D printing. Even 3D-printed dresses are upping the game of luxury and fashion, as seen in the very recent Bella Hadid's spray-on dress in the Coperni fashion show during the Paris Fashion Week.

Aerospace & defense

The aerospace and defense industry are critical for any country's economy and fortification against sudden political emergencies; hence these industries must always be 100% accurate in production and performance. How does 3D visualization help to ensure these two crucial aspects?

During the initial designing phase, production designers and engineers can use the 3D models to test their designs and see how they interact differently with the rest of the aircraft's body, or the "fuselage", as well as with the air while flying. Thus, the aerodynamics could be tested with these digital models before even creating the prototypes. The aircraft fuselage's strength and durability concerning other materials can also be checked beforehand.

Secondly, if an engineer wants to evaluate a new kind of airplane seat and how it would look amidst an actual flight interior, a 3D seat design can be quickly generated and rendered with a lifestyle view.

3D designs of armored track layers, shields, missile prototypes, tankers, fortified concrete walls, etc., could be generated perfectly before the actual prototype creation starts.

Thus, all kinds of stringent regulatory aspects, security areas, and aesthetics can be well determined by the aircraft manufacturing companies; any flaw detected at this stage can be fixed immediately without much production cost.

Furniture manufacturing

Last but not least, the furniture retail industry has gained massive momentum right after 3D technology was adopted for the production and manufacturing of urban furniture items.

Most online consumers, young urban settlers, and working-class city people prefer modern, minimal, comfortable, and, most importantly, ergonomic furniture within their living space. This is true for commercial and corporate establishments too.

Most furniture items targeted at these two niches are supposed to be minimal and lightweight, unlike the traditional furniture we have seen. Be it a couch, ottoman, dresser, bed, desk, table, sofa set, cabinets, drawers, kids' DIY furniture items, or anything whatsoever, modern customers prefer everything to be aesthetic. In such cases, nothing other than 3D furniture images is a better option for new-age furniture brands, retailers, and e-tailers.

Considering the growing importance of 3D modeling, these brands can create design prototypes in much less time and at lower production costs, customize them multiple times per the client's needs, analyze the functionality of the items, showcase the models on their website, in e-brochures, on social media channels to attract target audience and generate brand awareness, and much more.
All these can be done without endless costly photoshoots or creating actual items over and over.
In terms of buyers, 3D solutions have given them more control over their purchases, allowing them to make more informed decisions and virtually test the items before finalizing their purchases. With AR models, customers can configure the color scheme, material, texture, and design options; see how the items fit within their house. In short, they get a perfect shopping experience similar to visiting a store and buying stuff.
Wrapping up!
In a nutshell, 3D models have significant benefits for all these industries mentioned above, and it is not limited to these only. There are further mainstream service-oriented industries where we can see the positive effects of 3D technology enhancing performance.
For example, in the e-Learning sector, video game development, the app development sector, travel and tourism, and marketing – 3D modeling process has been a game-changer. So, it's just a few more years before we can see more such extensive benefits and applications of 3D modeling services driven by AI. Highly experienced agencies backed by 3D experts constantly strive to develop much more customer-centric 3D modeling services that can take businesses to the next level.
Stay tuned for another interesting piece of publication, and until then, keep exploring the magic of 3D!