Business cards or visiting cards are a must to make your company or brand more recognizable among your clients or targeted prospects. Often, it is the first thing that the prospects receive from you and can be effectively used during networking events to create a strong impression on their minds.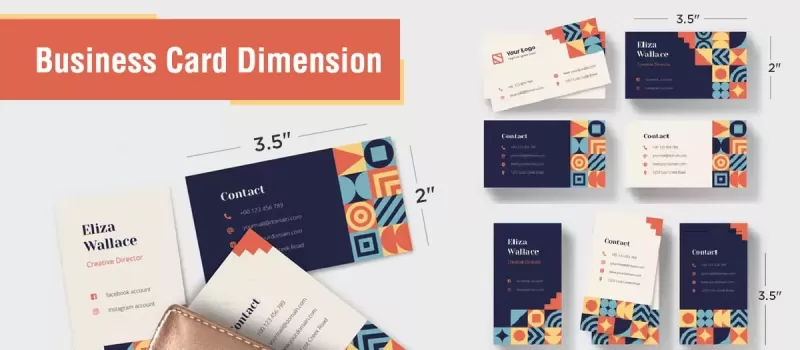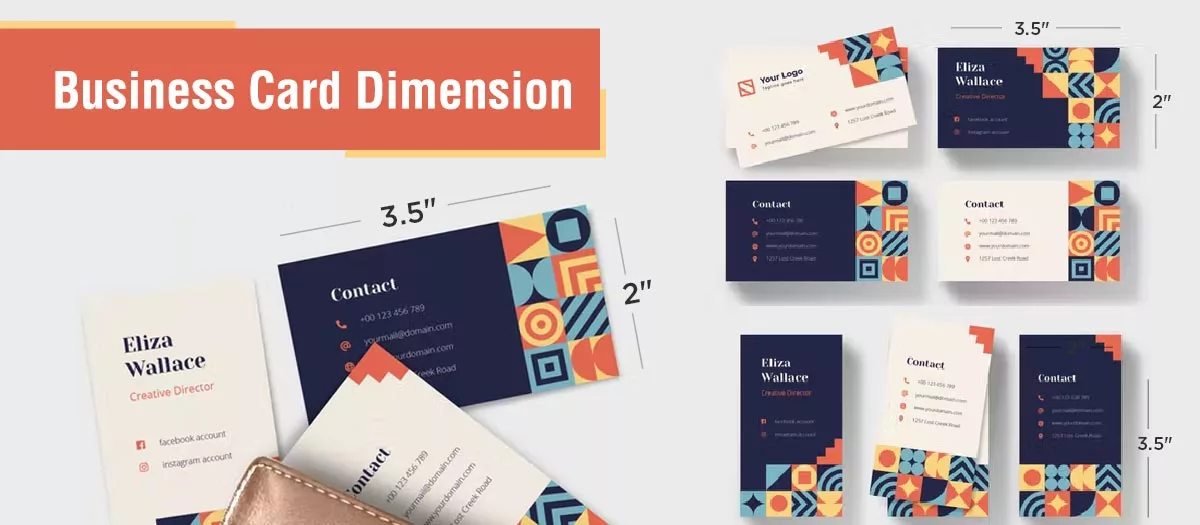 The standard size of a business card is similar to that of the credit cards, i.e., 3.5 inches width X 2 inches height (USA) or 3.3 x 2.1 inches (the UK and Europe). During card design, a bleed area of 1/8 inch is left to avoid any cutting mistakes. There is a trim line that is generally considered as a target line for cutting cards. Apart from this, you can also find a safety line where important elements such as logos or texts are placed. Therefore, make sure that you don't exceed this line while cutting.
Size of business cards, including bleed size, with a resolution of 300 DPI in CMYK color mode
Width in inches:  3.75
Height in inches: 2.3
However, to stand apart from your competitors, choose a business card design that is created in a unique manner and looks attractive to your prospective clients. Having an effective business card will help in the growth of your business by strengthening your network and increasing customer conversion rates.
Standard Business Card Sizes
If you go for standard business card size, you can save a few bucks on the printing and packaging. It is because different printing services offer cards in standard sizes from where you can select the best deal easily.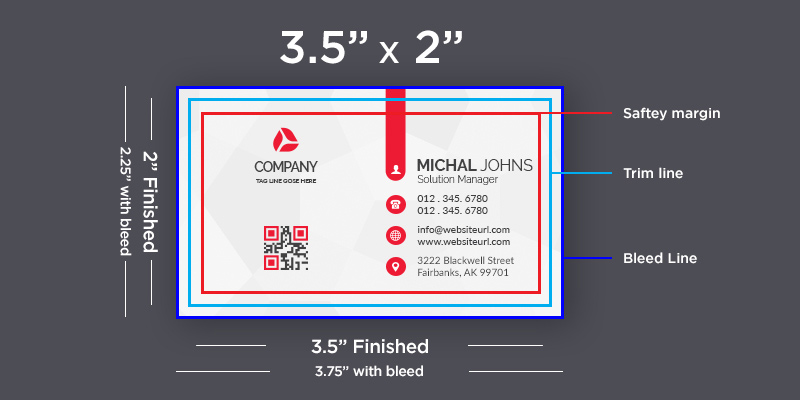 Most cards are of 3.5" x 2" inches size excluding bleed size. If your card is of this size, the recipient can easily put the same in his/ her cardholder. However, if the card is of a different size, then the recipient might throw it away.
3.5" x 2" or 88.9mm x 50.8mm cards are used in Canada and the USA. In Photoshop, CorelDRAW, InDesign, and Illustator software you can achieve this with by setting the document pixel size of 1050 pixels x 600 pixels document set at 300 PPI.
3.346" x 2.165" or 85mm x 55mm cards are used across Europe. In Photoshop, you can achieve this with pixel size of 1004 pixels x 650 pixels document set at 300 PPI.
You can refer to the table below to get an in-depth idea of the business card sizes used in different countries all over the world.
Standard
Size in Millimeters
Size in Inches
ISO 7810 ID-1
W: 85.60
H: 53.98
W: 3.370
H: 2.125
ISO 216 – A8 sized
W: 74
H: 52
W: 2.913
H: 2.047
Australia
W:90
H:55
W: 3.543
H: 1.968
United States
W: 88.9
H: 50.8
W: 3.5
H: 2
Canada
W: 89
H: 51
W: 3.5
H: 2
China
W: 90
H: 54
W: 3.543
H: 2.125
Czech Republic
W: 90
H: 50
W: 3.543
H: 1.968
France
W: 85
H: 55
W: 3.346
H: 2.165
Germany
W: 85
H: 55
W: 3.346
H: 2.165
Hungary
W: 90
H: 50
W: 3.543
H: 1.968
Italy
W: 85
H: 55
W: 3.346
H: 2.165
Netherlands
W: 85
H: 55
W: 3.346
H: 2.165
Japan
W:91
H:55
W: 3.582
H: 2.165
Russia
W: 90
H: 50
W: 3.543
H: 1.968
Scandinavia
W: 90
H: 55
W: 3.54
H: 2.165
Slovakia
W: 90
H: 50
W: 3.543
H: 1.968
Spain
W: 85
H: 55
W: 3.346
H: 2.165
Switzerland
W: 85
H: 55
W: 3.346
H: 2.165
United Kingdom
W: 85
H: 55
W: 3.346
H: 2.165
The custom standard business card will have the aspect ratio in the range of 1.42 to 1.8. You can refer to the above table for selecting the card size corresponding to a particular country.
Bleeds in Cards 
Bleed represents the area around the card that needs to be trimmed off. Before printing, you must add bleeds along the edges of the card to prevent any accidental cutting of the whitespace or design area.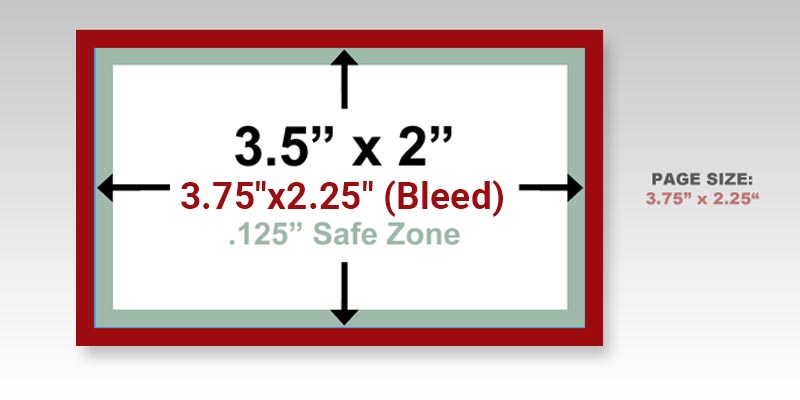 Along the card's edge, you can add bleed by provisioning for an additional 3.175mm to 6.35mm space all along in 300 PPI resolution.
Cards used in the USA have a total size of 3.75" x 2.25" including bleeds (standard size is 3.5" x 2"). Whereas cards used in the UK have a total size of 3.58" x 2.40" including bleeds (standard size is 3.35" x 2.17"). If your card is foldable, then its size should be 3.75" x 4.25" including bleed.
Card Printing Stock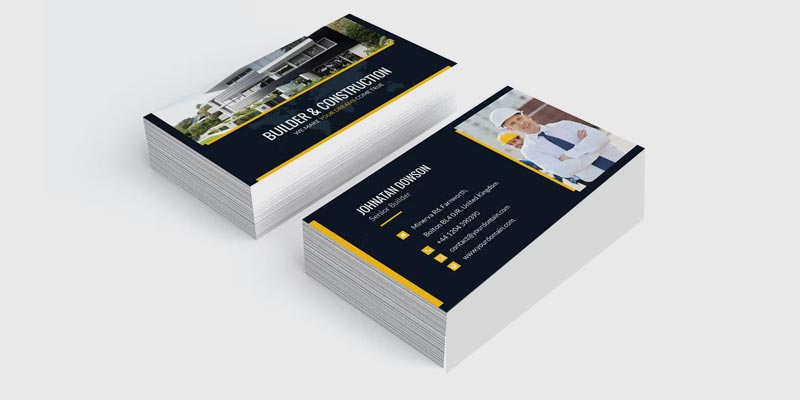 You must use heavy stock while selecting the business card for printing. The stock must have a density of 350 g/m2, weight of 45 kg and thickness of 12 pt for printing professional-looking business cards. The stock should be finalized based on the method of printing, needed visual effects, allocated costs, and organizational needs.
Experiment With Card Shapes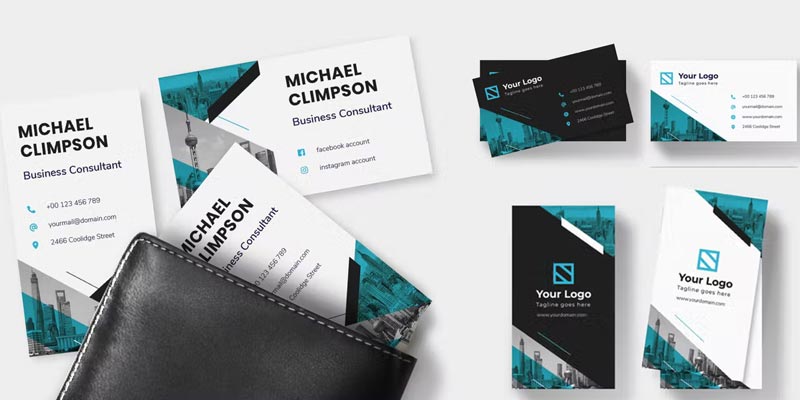 You can add uniqueness to your business card by tweaking its shape and size. You can round off the corners of your card so that you can differentiate your card without increasing its size. Apart from this, you can also use customized cards where the shape is creatively aligned as per your business requirements or goals. However, if you are confused, then you can always consult a freelancer card designer or take the help of an reputed graphic design company to make your business card unique.
Preparing Business Card for Printing
The next step after designing your card is printing. The preparatory steps that you must follow are discussed below.
1) Bleed and Margin
Make provision for margin and bleed areas in your card. Keep the card size to 3.75" x 2.25".
2) CMYK Color Mode
Set the color mode to CMYK if you want the same colors to appear on the card like the one displayed on the computer screen. Cards in RGB color mode can be converted to CMYK through Adobe Illustrator route, i.e., 'Edit -> Edit Colors -> Convert to CMYK'. Use 'Edit ->Convert to Profile' if you are using InDesign or Photoshop.
3) Card Resolution
For achieving clear and crisp card designs, set the card resolution to 300 Dots per Inch.
Useful Read:  Difference between low and high image resolution.
4) Save The Card Design
The card having rich graphic design can be saved in TIFF and PDF formats as they allow clear printing of all fonts. The TIFF format enables the proper opening of the embedded fonts.
By now, you must have got an overall idea of creating amazing business cards for your company. Besides, we also concluded that the business card dimensions and specifications for a standard size card don't vary much from a customized card. Therefore, either it is as simple as showcasing the contact details of a company or as complex as building its brand identity, you can effectively represent your brand by choosing a business card wisely. On the other hand, if you want to add your own flair to the business card design, then you can come up with some ideas and instruct your designer to create the card accordingly.