Floor plan drawings are very helpful when it comes to designing an architectural structure. People tend to give more importance to the designing aspects while neglecting the some of the common house plans rule. However, we often forget that both of them are correlated. An architectural property can be constructed effectively when a proper home layout is used.
Many homeowners have gone through this phase. They pay limited attention to floor designs and think that everything will go fine. However, when the property gets constructed, they realize that the property didn't turn out the way they wanted.
If you do not want to experience the same, then check out the common floor plan mistakes that people usually make while designing. In this article, we have discussed what a floor plan is, mentioned about the various types of floor plans, highlighted the common floor plan mistakes, and provided some really useful tips to avoid them. We have also created a list of free floor plan design software that architects can use to design functional floor plans.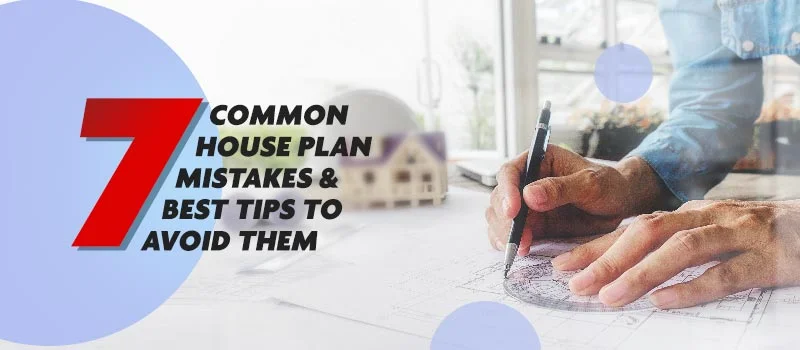 What is a Floor Plan?
A floor plan is the layout design or diagram of an architectural property that is drawn to scale. It allows you to determine how the walls, rooms, and furnishings are arranged in the space.
What makes a Good Floor Plan?
Here are the different features which a good floor design should possess.
Full functionality

A good home layout design must be functional. It should be able to fulfill the function and purpose of each room. For instance, placing the dining and kitchen room next to each other can benefit the dwellers.

Ease of accessibility

Each room in the floor plan design must be easier to access. For example, a bedroom and bathroom can be placed nearby. Entertaining spaces like the living and dining room should not be placed near the bedroom.

Effective space utilization

Creating a floor design is all about effective space utilization. Even if there is less space in your property, a good floor design must be able to arrange your basic furniture while keeping your room spacious.

More flexibility

The floor plan drawings should be flexible enough to be changed according to your needs. Despite each room having a purpose of its own, it should be convertible. For example, a bedroom can be also used as an office room and vice-versa.

Enough size

A good floor design should pay attention to the size. It means that the size of the rooms should be properly adjusted. The design should be carried out as per the size of the client's family and how they like to spend time.

Balance of detailing and practicality

It should maintain the right balance between adding architectural details and practical information. It means that apart from using creative ideas, it should also look out for safety precautions and expenses.

Correct placement of windows

A house plan should contain windows and skylights in the right places. It will ensure that you get natural lighting on the property. It is not just good for your health but will also help in cutting down electricity costs.
Common House Plan Mistakes and How to Avoid Them
Here are some common mistakes to avoid while creating the floor plan designs.
Not considering the buyer's lifestyle

Since the buyers will be staying there, you need to craft the designs according to their habits and lifestyle. It will ensure that the property will be comfortable enough for their use.

Overlooking the crucial items

While designing the floor plans, you need to spend more on crucial things and less on the appealing ones. However, people usually do the opposite, which results in wastage of money.

Not leaving space for the entrance lobby

The entrance lobby is an area between your living space and main entrance. Make sure you leave space for it in the house plans so that it does not become uncomfortable for the residents.

Creating too large or too small floor designs

Take accurate measurements of the property while creating the floor plan designs. Ensure that it is of the perfect size and can be clearly understood by all.

Failing to properly arrange the rooms

Proper arrangement of the rooms is highly important if you wish to avoid awkward situations in the future. Surely you do not want your kitchen room next to your bathroom, right?

Not including a storage space

Storage spaces are important for architectural spaces, especially if it is a home. It will help in proper space management and avoid cluttering of the house.

Not considering the family's opinion

Consider the opinion of your family since you are going to share the space together. It will also ensure that everyone is on the same page for the construction of their dream house.
5 Best Floor Plan Software Available for Free
Designing a new property is exciting. We spend hours on the interest looking for the best ideas with the hope to create our dream building. However, what we don't pay attention to is the floor plan designs.
Even though designing a floor plan is not as exciting as looking for the interior and exterior designs, it is important and needs to be paid the most attention. So, look out for the common floor plan mistakes and try to avoid them to the greatest extent.