Wedding photography demands meticulousness and attention to detail. This is the reason why you, as a photographer or a photo editor should try to understand some of the vital aspects of wedding photography editing in order to make sure that you get extraordinary outcomes that would create wow effects. There are key wedding photography editing trends that are dominating the market and every wedding photo editor should be aware of these wedding photo editorial styles in order to meet clients' expectations and to build an exceptional project portfolio. In this article, we have discussed about wedding photo retouching styles, which would allow you to succeed in your projects.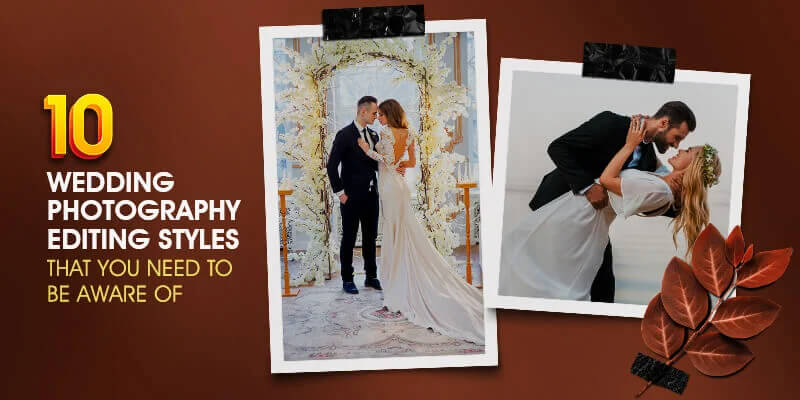 Top 10 wedding photo editing styles
The quality and level of photo editing define how a wedding photo would look like finally. A photographer typically clicks images in the RAW format and such images are marked by low contrast, saturation, and sharpness. Photo editors start their process by photo culling and use any of his/her preferred photo editing software to open RAW files to edit them. Editing is a meticulous and time-consuming process because wedding photographs are clicked under diverse lighting conditions. Every photo editor has his/her own style of editing and even that may change from time to time depending on what the editor wants to highlight and what his/her clients want.
What are the different photography editing styles?
Well, here are the top 10 wedding photo editing styles that you should be aware of:
Light and Natural

You may go with the light, airy, and natural effects. These effects instill a feel of natural, clean refinement. These images send out an uplifting message. This airy and classic feel is obtained by incorporating good amount of light and making sure that the background looks uncluttered and clean. It is a good idea to use natural light to instill a clean look and feel in wedding images. You should apply a consistent style of editing in all the images. You may create presets by defining your editing style. With this, you would create an easier workflow.

Moody

This is a recently-developed editing trend. The moody trend often involves the use of dark shades, which add a romantic and cinematic effect. Images edited in this style feature high degree of saturation at certain portions and this may contribute to an unnatural feel. These images often come with black or orange tones and they may not look good in printed form.

Matte Finish

You get a matte finish when you apply a kind of a hazy filter on the photo. In this finish, an image may not look sharp and they may not appear clear after getting printed. A small amount of matte effect would be necessary to induce a positive effect on images that are clicked outdoors. This effect may lead to the darkening of dark areas and lightening of lighter areas and so you may want to use this effect cautiously. Select Lightroom's Develop Module in order to play with the tone curve. Then you create an S-shaped curve by working on single points. Changing the S-shape would enable you to change the degree of the matte effects.

Desaturation of Elements

With this style, you can make the shades in an image appear muted. This way, you can make bright colors such as red or green appear a bit dull. You can also make the skin appear washed-out. This technique is commonly applied to tone down the looks of trees and bushes. If you don't want to incorporate the desaturation effect in the entire image, you may want to make use of the selective coloring sliders in order to increase or tone down specific colors.

HDR Image Editing

Editing a high dynamic range of colors would demand a little bit of practice. This editing style is primarily used for images portraying nature and landscapes. This style is not an ideal choice for editing wedding images as they may make skin tones appear super-saturated. This is a good option if you are looking to achieve an image that has higher levels of saturation and contrast. But you should tine down the contrast to match your preferences. While editing wedding images, you can use this style if you are looking for a dramatic feel. However, it is a good idea to adjust the saturation or vibrance of particular colors rather than applying this effect in the entire image.

Black-and-White Image Editing

Many photographers prefer black-and-white wedding images while many prefer images that have a lot of bright hues. It might also happen that couples choose their own wedding colors as per their personal preferences. Sometimes, colorful photos do not translate into high-quality black-and-white images. These images may lack the details. But, high-quality black-and-white images look classy and they transcend eras and redefine styles. Wedding photography is detail-oriented and is noted for its grand beauty. It is a good idea to create a mixed portfolio that would consist of color as well as black-and-white images. Couples do like black-and-white wedding photography and they do love framing their best black-and-white wedding photos. Black-and-white wedding images

Fine Art Editing

These types of edits replicate the medium's grain and contribute to a film-like finish. Many photographers choose to shoot a film and then they get the outcome processed digitally. The highlights are supported by the exposures to a certain extent and the outcome, in totality, looks life-like if a little bit of adjustment is made. The organic look can be boosted by the addition of grain and you should ideally lower the saturation to replicate the feel of some of the popular films.

Classic style

This type of editing style is primarily about highlighting the lively tones and colors. This is an ideal option if couples want the exact style of their wedding to get captured accurately. You need to retain the details in the shadows and highlights during the editing process in order to make sure that the final version exactly mimics the look and feel of the wedding day.

Glam style

Using this style, you can incorporate a dramatic look in wedding photographs. Photos edited in this style feature brighter hues and greater contrasts. These images feature low degree of noise or grain and so are of top quality.

Vintage style

Images edited in the vintage style look like old photos and they are characterized by warming filters. Most of the times, these images appear as if they were captured during the sunset time. When you use this style of editing, you may find skin tones to appear a bit orangish.
Apart from these styles, couples sometimes prefer editorial style wedding photography. What is editorial style wedding photography? In this style, the photo editor makes use of dramatic colors and lighting so as to create mystical images that we often come across in fashion magazines.
Useful Article:
What do wedding photographers use to edit photos?
Wedding photographers use specialized software to finetune their captures. They may also choose to employ professional wedding photo editing company to get their photos refined. Here's a list of top photo editing software that photo editors use to get their wedding images refined:
So what style of wedding photo editing have you finally chosen? Dark and moody wedding photography? Or natural style wedding photography? Well, it entirely depends on your taste and on what your clients want. As we said earlier, it is not a good idea to base your editing style on wedding photography editing trends as trends come and go. If you are a photographer who is looking for professional photo editing support, you should seek professional assistance. We, at PGBS, deliver high-standard photo editing services for photographers, allowing them to create awe-inspiring project portfolios. We deliver world-class Photoshop services, allowing photographers, photo studios, event management companies, and families to excel in their projects. We offer the best wedding photo retouching rates in the industry, helping our clients to real high returns on their investments. If you have a photo retouching project, we are always by your side to help you meet your objectives. Call us anytime; our customer service team remains live 24/7 to respond to your queries.