Some magazine looks great, communicate the intended message and do immense favors for concerned businesses. Being a premium magazine designing company offering a professional level of services, we continuously get bombarded with queries regarding the various steps involved in the process. Today we bring you some strategic steps that we take for crafting amazing outputs that always satisfies the needs and expectations of customers.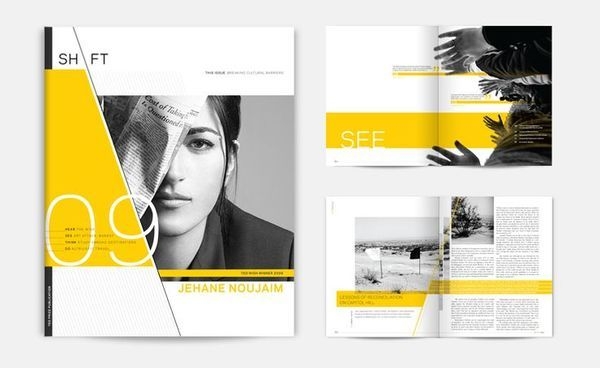 Get inspired
The very basic step is to get inspired. This doesn't mean that you should not be creative and copy other's ideas. But referring different magazines from the industry extends the magnitudes of your thoughts and provide your more angles for contemplating.
Create a concept
A magazine oriented on interesting concepts fetches you better results. Try a theme or style that is creative and impresses your target audience. Device innovative stratagems and come up with ideas that make you distinguished.
Branding is important
The magazine should complement your brand. The look and feel it offers should be attuned to the nature of your business and the products or services that you are offering. Every color, image, graphics and font size used by professional companies offering book layout design services is for a justifiable reason.
Assure great cover design
A well-designed and attractive cover helps you to get noticed from among the stack of books. High-quality proper resolution images must be used. It should excite your potential readers; they should be able to connect with it. The cover design must unfailingly be capable enough to reflect the content that the book encompasses.
Multi-column Layouts
One of the most important things that you should take care of is the layout design. For providing professional looks, using multi-column grids can help. Three columns look great for magazines that are regular sized and when it comes to the ones that are digest-sized, two would be ideal.
Optimally use white space
If possible, leave some space blank. Too much stuffing can be visual torture for the reader which he/she won't appreciate. Experiment with different designs with enough white spaces. Try to convey ideas through wise images as this can help in reducing texts.
Try to wrap words around photos
This method is an innovative one. The traditional method is to keep words inside the limitations of a box. This can be avoided by wrapping text around your images. As a result, words would have a free-flowing appearance. A unified look is what it achieves.
For this method to appear stylish, photos with abundant white space must be found out. Complicated outlines are hard to work on, while simpler ones are convenient.
Try out aerial views  
If you toy with your photos' angles, it can appear eye-catchy. Photos taken from above are very much in fad and attractive too. Food products and drinks started using this style for grabbing attention quickly. But, today it has been accepted by the travel and tourism industry. Photo-journalists also make the most out of aerial shots. For example, the aerial view of a flooded city can give the viewer a larger idea of the incident in a single shot. Typography can be adeptly merged into images with the help of aerial clicks. Innovative headers and body text can fill the gap and contribute a fresh look.
Get a 3D look
3d magazine layout can be built on 2D layouts with the help of multiple text layers and photos. A photo's subject can be cut from the background. This layers technique can create the refreshing 3D appearance that jumps outside your page.
In InDesign, expand the Layers panel (Window > Layers) and produce a layer series in the following manner: Background of Photo, Text Behind, Subject of Photo, and, at the end, Text in Front at the pile's top. You can split your content like this. A good 3D appearance can be obtained in this manner.
The technique is very simple. But, it renders a refreshing and flamboyant appearance to your layouts.
Transform your contents page
People say, "Don't judge a book by its cover". Nevertheless, people tend to pick up a magazine after getting attracted by its cover page. But, the interesting part is that a cover page alone cannot retain the person's interest. After all, an interesting contents page is essential.  This is the page viewed by readers even before they proceed to inner pages. So, this part should be made attractive. Readers aren't interested in viewing a lackluster contents page. Breathe some life into it through various colors, photos, typography, and uncommon grid.
Try some illustrated graphics for that unique feel
Although several magazines opt for images to convey ideas, a high-quality illustration can bring in a unique and fashionable look. This is especially suitable for technology, design and art titles.
Adobe Illustrator, CorelDRAW or Inkscape can produce vector graphics that can be used in magazine layouts. This can be done without much effort.
Abstract concepts could be accurately expressed with the help of vectors. Several magazines that fall outside the ambit of regular fashion and lifestyle genres consider it a preferred choice. Design magazines succeed at using abstract graphics images to produce eye-catchy magazine covers.
Many magazines have special editions or collector's editions. Illustrations add a great look to these editions. Both vectorized and hand-made ones have that alluring quality.
All publications desire to establish a unique position of their own in the market. In other words, the position of a different brand can be created through creatively designed illustrations. Magazines owned by airlines, retailers and self-promotional ones take maximum advantage of it.
Bring in Infographics for that digital appearance
Several globally recognized magazines use Infographics for article illustrations in a manner that suits the modern times. Today, very few magazines prefer those articles laden with text. Instead, they take a leaf out of digital publications to attract more eyeballs.
Just look at the attractive Infographics taken from a sports magazine.
The article is given in points. Every number is allotted to a hexagon icon and a corresponding picture. When the article is spread over the spine, the entire design looks like an attractive poster.
Try to add callouts or quotes given in infographic kind of shapes in a predominantly text-dominated article. Arrows or dividers can keep the reader's attention from deviating. Statistics or locations can be shown with the help of maps or pie charts. Sports and finance magazines can use Infographics well.
Wait.
Don't forget about the magazine cover.
Magazine cover plays a major role in your marketing campaign. Here are some of the effective tips that help you to create outstanding covers.
Tips to design an effective magazine cover
Print editions of several international newspapers are closing down their editions. Still, magazines continue to evolve and stay in the minds of readers. Beautiful covers play a pivotal role in making a magazine irresistible. This is why designers take oodles of energy and effort to come up with fascinating cover designs.
It is a massive challenge to design a creatively superior quality illustrative magazine cover. People with little knowledge about graphics can't even think of achieving the feat. However, there exist several designing websites that help in creating stunning designs. We present you a few beginner-level tips.
1. Never forget the target audience
Yes, it is true that everyone cannot be satisfied. As a magazine designer, you simply have to concentrate on impressing your target audience. Take a minute to reflect on their likes and dislikes. For example, an entertainment magazine should come with unseen stills of movie stars and nothing else.
2. Ensure good placement and typography
Typography and placement are extremely important factors for magazine covers. A clearly visible and extremely harmonious mix of images, words, and background is needed. A decipherable structure must be brought out using typographic hierarchy. The reader should be able to distinguish important content from less important ones through the process of selective highlighting.
3. Handle the text carefully
Colors should be used on texts with extreme caution. The whole feeling and tone are dependent on it. Black or white are always preferred colors for subtitles etc. But, brighter colors look good on big titles.
Ensure that you seek expert advice before venturing into magazine designing. Also, refrain from placing lengthy sentences on cover pages as it looks drab and unattractive. Features like numbering and alignment also should be utilized in the best possible manner to grab attention.
4. Choose photos & backgrounds wisely
It is a fact that photo occupies a bigger portion of the layout and grabs the limelight. Hence, the selection of photos must be done with utmost caution. Always go for the best when you select photos. For example, while using an individual's photograph, use the one which faces the camera and makes eye-contact perfectly.
When it comes to background, a transparent one is better. Backgrounds with solid colors are also good options. Backgrounds that use a mix of colors make it hard for readers to differentiate between the titles and headlines.
5. Look for ideas everywhere
Inspiration doesn't come out of thin air. Many a time, seasoned even designers won't be able to get over those their own old designs that have already been overused. How to shake those stale ideas and make room for fresh ones? The key is to keep your eyes and ears open to fresh ideas from all possible sources. Keep a notebook handy and jot down ideas when they strike you. Do it immediately as these ideas could vanish in seconds.
There are a lot of other factors to be taken care of. Colour balancing your photos, avoiding clip arts and staying away from the edges of pages are just a few to mention. For more information about different techniques, trends and ideas for magazine design services, stay in touch with us.