Want to build a strong customer-business relationship with your Norwegian buyers but don't know how to do it? Well, we are here to serve you by all means to help you present yourself in the most professional way.
We are one among the popular Norwegian speaking call center service providers with a world-class customer support team proficient in speaking and understanding the Norwegian language. Our contact center support can make it easy for your business to successfully attend and resolve the queries of Norwegian speaking customers round the clock.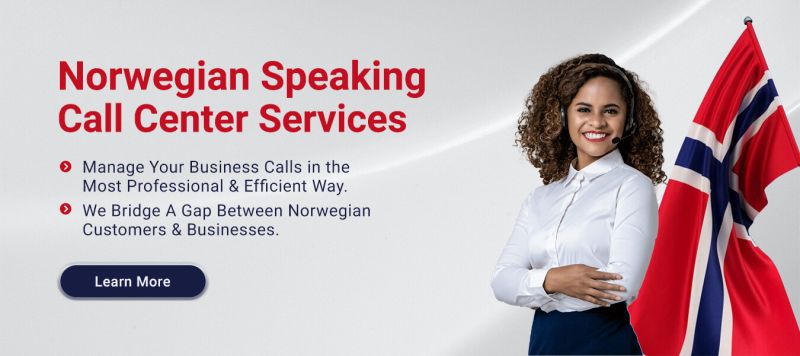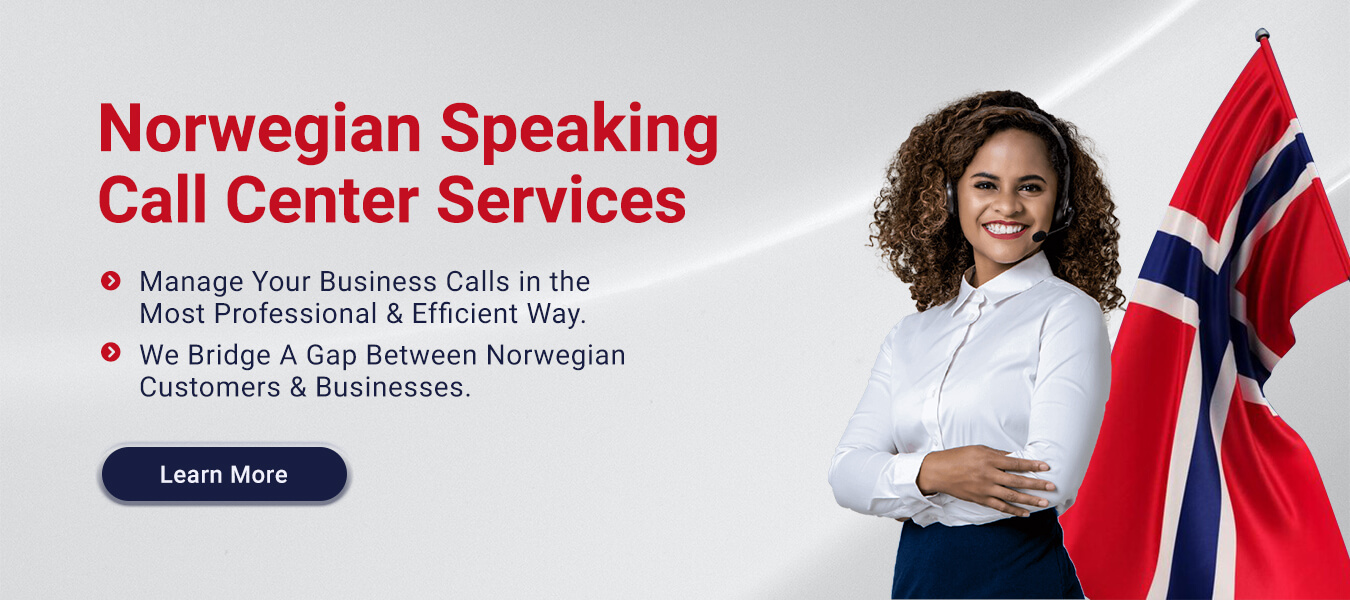 Our Norwegian Call Center Services
Inbound and Outbound Call Center Solution

We provide a complete call center solution to the businesses from inbound calls to outbound calls, from pacing your calls to bringing growth to your business. We use multiple telephony operators to maintain the call speed and to eradicate down times faced by businesses.

Telephone Surveys (CATI)

When a business sells any product or provides any service, it is essential to have a survey around it to understand customers' point of view. We provide Computer Assisted Telephone Interviewing (CATI) that helps better understand both the market and the needs of the customers.

Live Chat Services

In the world of online ways of approaching the customers, websites, and other channels, live chat support is a must, and every brand or business should have this mode of human interaction to generate the trust of both existing and new customers by resolving their queries then and there whenever they visit your platform and are in need of immediate help.

By relying on our live chat services, we can provide you with an experienced team, round-the-clock service, and regular monitoring of the progress, in short a complete attention to the customers' requirements.

Email Support Services

We provide email support services for both technical and non-technical products and services. Outsourcing email support to PGBS can help you manage customer queries via emails in no time.

After Hours Answering

When we say we provide after-hours answering services, we operate outside of your usual business hours. This can help you match various world time zones, and your business is in the moving stage even when you are not working.

Helpdesk Support

Assisting with 24/7 help desk support to your customers that too in their native language can eradicate the communication barriers and make the business process smooth on both ends.

Reputation Management

We provide a special service that helps keep your brand image intact. We keep a close watch on all the platforms where your business is present and we try to maintain healthy reviews and customer feedback and by eliminating negative ones by providing assistance to these customers till they are satisfied enough to remove their reviews.
Our High in Demand Norwegian Call Center Features
We provide a number of power pact features to our clients at various geographical locations with superior quality and best in class results. Some of our call center features include-
Call Recording

We record all business and customer calls to analyze and understand the nature of the prospects and the most common queries they come up with. This helps us in improving our approach in dealing with them.

Aligned Call Allocation

We work on the basis of smart call routing that makes the call allocation smooth and eradicates the waiting time and queueing of the calls from the customers that ultimately leads to a flawless customer call experience.

Interactive Voice Response System (IVR)

We use the IVR system to keep the customers engaged while we allocate their calls to the concerned department to get addressed. This is the best and most advanced way to keep things smooth.

In Call Transfer

This is a process using which we can transfer the customer's call to the above department in the hierarchy to give the customer utmost satisfaction and provide them a complete and end to end solution.
Why Outsource Norwegian Customer Support Services to Us?
We provide unmatched multiple channel support to your business
We bridge gaps between your customers & your business
We are available for your customers even in the non-working hours
We have a pool of talented call agents who are proficient in Norwegian language
We maintain professional ethics & provide complete data security
We use the most updated tools & technology
We are committed to quality, deadlines & targets
We provide cross-functional services to various business verticals
We have a competitive pricing mechanism
Partner with our Norwegian Speaking Call Center Company
Outsource Norwegian call center support to one of the most reputed and well-known call center companies like ProGlobalBusinessSolution because your business needs a one-stop solution for establishing yourself as a brand in the Norwegian language market.
We are a multilingual call center company working round-the-clock for various time zones helping you in skyrocketing your business.
Need bilingual call center support other than Norwegian language? Try below language combinations!